Professional Sod Installers to Improve Your Yard
Michigan certainly sees its share of hard weather.Ann Arbor MI is subject to Lake Effect weather which can produce extreme cold and blizzard snow levels and intensity. Spring is short and summers can be humid. Lawns can see a slow Spring and quick Fall and keeping a green lawn can be a juggling act. New homes and remodeling necessitate achieving a ready to set lawn so as to appreciate the property's appearance and enhance its value to the owner and neighborhood.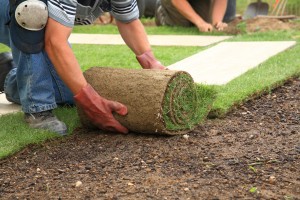 Keeping an attractive and healthy lawn and plantings is sometimes a chore. Redesigning a yard is a labor intensive and expensive task as well unless professional contractors and sod installers are called upon to consult and construct.
Traditionally it was a practice to seed a lawn or yard and then tend it for best results. Much is dependent on growing season, severity of winter and start of spring, soil conditions (which can vary) and regular care and maintenance. All of these are time related and you don't know how successful the resulting lawn will be until considerable money and effort have been expended.
Seeding does have a few advantages. A greater choice of grases is availale as a rule. The work can be done by the homeowner and costs are less than working with sod installers. This may be an excellent choice for smaller landscape areas which require less maintenance. Homesteads with small lawn areas and which are on level ground may do very well with DIY seeding.
Sodding has a number of advantages for homeowners. Working with a professional landscape business who can analyze the property and select the best type of sod for the lawn eliminates costly trial and error. The contractor will recommend the type of sod that will produce the healthiest lawn based on soil composition, rainfall and groundwater, and layout of the property. Sodding is very effective on sloped properties since the grass will already be implanted and will retain water evenly.
Sodding in Ann Arbor MI has definite advantages for those who are marketing their homes and have had problem lawns. The quick turnaround time from excavation to sodding reduces the time put into placing the home on the market. First impressions often make a sale and a fresh green lawn is an eye-catching feature that gives the potential buyer a positive feeling about the property.
Remodeling and renovations sometimes require changes to landscaping and sodding by professionals can make a seamless lawn fit into the new addition or highlight an exterior change. Developing a backyard retreat can be moved quickly when sodding is used to create a green and restful atmosphere where the new leisure area can be put to relaxing use quickly instead of next season.
Certainly there are less expensive ways to develop a greener lawn and yard. But the certainty of success, rapid installation and foolproof guarantees of professional sodding cannot be denied. Most of us would rather have a quality lawn on our property from professional contractors than learn the hard and expensive way of seeding and waiting and hoping.
Get your yard looking its absolute best with custom landscaping solutions from Twin Oaks. Find us online at https://www.twinoakslandscape.biz/, visit us in Ann Arbor, MI at 4100 South Maple Road, or call us at (734) 213-6911.