Professional Landscaping Services for Your Home
When you look out at your yard and you see nothing but open space, it can make enjoying your landscape difficult. Get the most out of your Milan MI home by having professional landscaping services put your yard to the best use.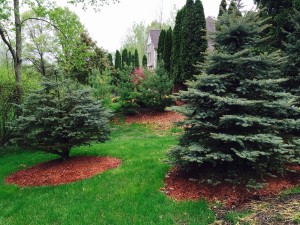 What a great landscape can provide for you is this- a beautiful yard designed to your specifications that is both functional and attractive. Whether you want a Koi pond to relax by, a rock garden to break up the monotony of your yard, or complementary trees and shrubs planted around your home, the right landscape service can make you love your property more than ever before. Discover the many benefits to a professionally landscaped yard.
Trees to break up the lines of your home
Trees, including Japanese cherry blossom, Quaken Aspen, and Weeping Birch, provide beauty and many other benefits to your home as well. Benefits of decorative trees in your landscape include:
shade in warmer months
privacy from neighbors
softening the home's square lines
When you add trees to your landscape, you improve your yard's usage and increase the overall value of your property as well. A professional landscaping company can help you choose great trees for your needs.
Unique landscape for your specific needs
If you enjoy lounging outside in your backyard, you can take advantage of a wonderful landscape that can make it easier for you to love being outside. Curbing can be placed along your property edge and around your trees to make mowing your lawn easier and to create organization in your foliage. You can also have a pond or water feature installed in your yard for a soft background that is both calming and pretty to look at as well. Whatever you wish to use your ward for, the right landscape can turn your yard into a space where you can relax and enjoy your outdoor space.
The right landscape makes your life easier
If you are simply wanting a landscape for your Milan MI home that is easier to maintain, the right landscape can help you here as well. Curbing makes mowing your lawn easier, and rock gardens or weed barriers help make gardening a snap. A professional landscaper can even pull out existing garden areas and replace the space with sod if you wish to reduce the amount of garden space you are using.
When it comes to your yard, the right landscaping services should make you feel like your lawn is something you can appreciate. If you don't know what to do about your outdoor property, or just feel like your space could use some more pizzazz, a great landscape upgrade may be just what your home needs. From planting a few trees to installing great water features, you can make the most out of your outdoor space and learn to love your yard in whole new ways. Improve your home from the outside in with a great landscape you will love.
Get your yard looking its absolute best with custom landscaping solutions from Twin Oaks. Find us online at https://www.twinoakslandscape.biz/, visit us in Ann Arbor, MI at 4100 South Maple Road, or call us at (734) 213-6911.