February 11, 2015
Spring is a great time of year to begin prepping your yard for summer landscaping. However, if you're a new homeowner or simply aren't very experienced when it comes to caring for a yard, then you might be feeling a bit lost when it comes to preparing your yard for the spring and summer months. Fortunately, there are some simple tips you can follow to ensure a beautiful lawn without breaking too much of a sweat in the process.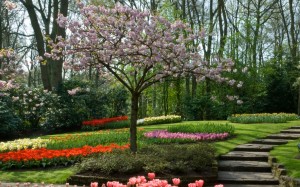 Check for Damage
Before you start doing any actual yard work, you'll want to carefully inspect your property to make note of any damage that may have occurred over the colder months of autumn and winter. Specifically, be on the lookout for:
fallen branches and limbs
Remove any dead shrubbery and trim or cut off damaged/broken branches. Don't worry about the dead grass just yet; that'll be covered later on.
Test the Soil
If you plan on doing any gardening during the spring, you'll need to start by making sure your garden beds are conducive to growing plants. Specifically, the pH levels of your soil will need to be just right. Purchase a pH testing kit from your local gardening store and follow the instructions to test the soil. If the pH is too low or too high, you'll either need to treat it with a balancing agent or replace the soil altogether.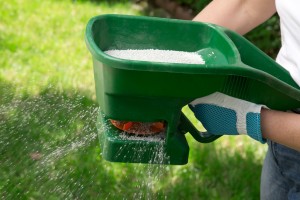 Stop Weeds in Their Tracks
Weeds won't wait until summer to start emerging. According to MyHomeIdeas.com, weeds can become a problem as soon as temperatures hit 70 degree Fahrenheit. Avoid the hassle of having to pull weeds down the road by spraying a weed-prevention chemical on your property during the earliest months of spring.
Re-Seed Lawn as Needed
If you've noticed dead patches of grass in your lawn, you'll want to purchase and lay down some new grass seed early on in the spring months so that, by late spring, you can enjoy a healthy and lush green lawn once again.
Start the re-seeding process by raking and loosening the soil around the dead patches between two and four inches. Then, lay the grass seed down, followed by a layer of fertilizer to help it grow more quickly. Use the flat end of a rake to compact the seed and fertilizer combination into the ground, as this will prevent the seeds from blowing away in the wind. Then, all that's left to do is follow the instructions on the seeding package and water the patches as needed. Within a few weeks, you should have green grass once again.
Getting your lawn ready for spring will take a solid weekend or more of hard work and dedication. However, by following the above tips, your efforts will be more than worth it in the end when you're able to take pride in having one of the best-looking yards in the neighborhood.
Keep your lawn looking beautiful with maintenance services from Twin Oaks Landscape.
Find us online at https://www.twinoakslandscape.biz/, visit us in Ann Arbor, MI at 4100 South Maple Road, or call us at (734) 213-6911.
"We recommend Twin Oaks to any entity looking for a full-service, talented, and responsive provider."
Therese Mahoney
Secretary/Treasurer of Doral Creek Condominium Association, Ann Arbor, Michigan