Preparing Your Plants for Frost This Fall
For those living in or around Ann Arbor MI, you know how frigid cold it can get in the wintertime months. While you're all bundled up warm inside, all of your plants, shrubs and bushes are outside in the freezing cold. While you might assume that plants go dormant when it comes to the winter, many of them will need a bit of tender loving care to ensure that they make it through those colder temperatures. This will benefit you when springtime rolls around and you are left with gorgeous plants and bushes that look amazing despite the harsh winter.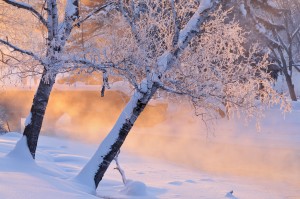 How to Care for Your Plants Before the Winter
The key is to know when the frost and cold temperatures normally hit your Ann Arbor MI area. Once you know when the frost is going to roll around, you can make preparations for those plants and bushes that are found on your property. In general, it is important that you look for a variety of plants that could use your help before the frost hits home.
Any and all bushes on your property will need to be cared for.
Any type of flowering bush or tree should be taken care of before the frost.
Make a note of any and all plants that can be moved before the frost hits home.
The proper lawn care will require that you take good care of these plants so that they are able to make it through the harsh winter. Now that you know what types of plants, bushes and shrubs need to be cared for before the first frost, it will be easy for you to begin prepping these plants for a wintertime slumber.
Caring for the Plants Before the Winter
When it comes to bushes, there are a wide range of things that you can do to provide better lawn care. You can put some heavy mulch on the bottom of the bush so that it insulates the ground around the plant. You can also wrap the bush with burlap so that it further insulates the plant and keeps it in check. Many people also put small bush protectors on the top of their plants as well as bushes so that heavy snow does not weigh these things down.
If you are new to lawn care and do not know much about preparing for a Ann Arbor MI frost, it might be beneficial to hire a landscaping company to do the work for you. While taking care of plants and prepping for the harsh winter might seem easy, many people find that it is easier for them to simply hire a company to do the work for them. By making sure that all of your plants are taken care of and protected before the first frost, you can be sure that these plants will live a long and healthy life. It is the only way to guarantee that the plants make it through to the springtime.
Get your yard looking its absolute best with custom landscaping solutions from Twin Oaks. Find us online at https://www.twinoakslandscape.biz/, visit us in Ann Arbor, MI at 4100 South Maple Road, or call us at (734) 213-6911.