November 21, 2015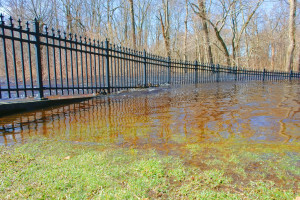 Landscaping professionals can be terrific for storm water management. They can implement a number of effective and modern eco-friendly methods can can keep levels of undesired storm water under control. These methods include pervious pavements, rain gardens and green roofs galore. Since minimizing storm water runoff can enhance local water supplies, management of it is always extremely important.
The Potential Dangers of Storm Water Runoff
Storm water runoff refers to the water that comes from melted snow or rain that instead of soaking into the ground, runs off over land, true to its name. It's troubling for a number of different reasons. It's capable of collecting dirt, chemicals, debris and various other kinds of pollutants and then making its way into storm sewer systems. If it goes into a storm sewer system, it can interfere with drinking water supplies and the health of community members. This is exactly why storm water management is so important.
Professional Assistance
If you want to help manage storm water in your community, recruiting the assistance of a reliable company in your area can be an extremely smart idea. If you want to implement helpful and efficient storm water management practices on your property, you can call our reputable Ann Arbor MI landscaping business for additional details. We can help you explore a variety of effective storm water options.
Swales
Swales can be terrific for handling storm water. These depressions, combined with soil that drains quickly, can go a long way in minimizing storm water. Not only can swales be effective for keeping storm water under control, but they can also be extremely attractive. If you want to boost the visual appeal of your property and at the same time do something positive for your neighborhood, swales can make a superb choice.
Rain Gardens
Rain gardens also can be excellent for storm water purposes. These types of gardens enable H20 to accumulate during rainfall. Once the rainfall is complete, these gardens enable the gathered H20 to gradually make its way into soil. If you're interested in the idea of getting a rain garden for your property, try to place one in a section of your yard that tends to dry rapidly.
Pervious Paving
Pervious paving is yet another excellent choice for handling the potential troubles of storm water. Paving components that are composed of tiny openings enable water to make its way into gravel layers that are situated below. This is beneficial for making sure that upper surfaces remain nice and dry at all times. It's also beneficial for getting rid of runoff. Convenient options in pervious paving include plastic grids, porous concrete and lastly, concrete pavers.
Contact Our Company Now
If you're looking for practical and aesthetically pleasing answers to storm water issues, contact our highly respected Ann Arbor MI company for additional information and to get started. If you have any questions regarding storm water runoff, we'll be more than happy to give you the information you need, as well. Call us today.
Get your yard looking its absolute best with custom landscaping solutions from Twin Oaks. Find us online at https://www.twinoakslandscape.biz/, visit us in Ann Arbor, MI at 4100 South Maple Road, or call us at (734) 213-6911.
"We recommend Twin Oaks to any entity looking for a full-service, talented, and responsive provider."
Therese Mahoney
Secretary/Treasurer of Doral Creek Condominium Association, Ann Arbor, Michigan