May 19, 2017
Your back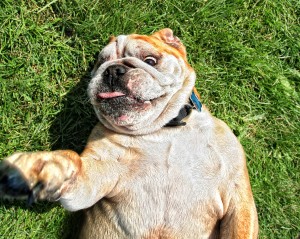 yard and garden are excellent places for your pet to enjoy the fresh air, play with their favorite toy, and relax. Making your backyard a pet-friendly, safe, and comfortable environment will give you peace of mind the next time your pet is out in the yard by themselves. Your goal is to create a safe environment for your pet, and at the same time, an attractive space for the people. This can be accomplished easily by following a couple of steps to make a safe haven for your pet.
These steps are:
1. Use Pet-Friendly Edging
An edge separates the grass from the shrub or the flowerbeds. Steel is the most commonly used material for an edge. It has a sharp edge that can cut your pet's paw once he/she steps on it. To avoid such injuries, it is advisable to use edges with a more rounded edge. You can also switch to brick or concrete blocks since they are more paw friendly.
2. Use Comfy Mulch
When choosing the material to use as mulch, you need to put in some consideration. First, you do not want to use materials that will stick on your pet's coat. You also should stay away from materials with jagged edges such as granite as it can cut your pet's paw. Instead, you should think of materials such as river rock mulch (since they are rounded they will not injure your pet's little feet). You can also opt for cider chips. You should avoid using cocoa mulch as it contains theobromine, which is an ingredient used to make chocolate and could be poisonous to dogs.
3. Be Selective with Your Yard Features
To make the backyard more fun for your pet, you can incorporate some features such as a backyard pond or a sand box (especially, if you have a dog). It can be great for him/her to cool down in the hot summer weather or dig and bury his/her bones. However, if your dog is small or not a swimmer, be sure to block off any access to the pond for their safety. When it comes to a sand box, the installation is relatively easy, but it needs some maintenance. Keep a shovel close by to clean up and cover any waste and holes.
4. Choose Plants Wisely
While plants and flowers can make your backyard look beautiful, some plants are toxic to your pet. The toxicity levels will vary from plant to plant, and they may cause different reactions. Find out from your veterinary physician which plants you should avoid and which to plant. It is better to be safe than sorry. Use plant species that are known to reduce fleas such as rosemary, mint, and lavender. Also select urine resistant plants such as Euonymus Japonica. If you notice some brown or yellow spots on your lawn from urine, do not freak out, reseeding is quite easy.
5. Be Cautious when Using Fertilizers, Herbicides, and Insecticides
Always read the instructions on the bottle before use. This will reduce the chances of using chemicals that can be harmful to your pet. It is advisable to use organic pesticides, herbicides, and fertilizers on your lawn and on the plants as well.
Knowing exactly what to do and what to change in your backyard to make it pet-friendly can be a challenge for most pet owners. The best option is to contact a landscape professional to advise you on the mulch, the plants to use, and the insecticides to avoid among other things. Feel free to contact us for further information.
"We recommend Twin Oaks to any entity looking for a full-service, talented, and responsive provider."
Therese Mahoney
Secretary/Treasurer of Doral Creek Condominium Association, Ann Arbor, Michigan