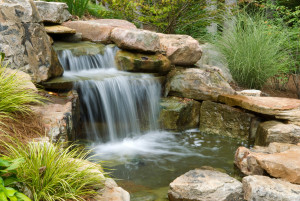 With summer in full swing, consumers in Ann Arbor MI and elsewhere in the northeast United States are looking for fun and attractive ways to update their yards. From a variety of flowers to a brand new pond and more, the options are endless. An Ann Arbor outdoor water feature is also a great addition to any home garden.
The Joys of Outdoor Water Features
Fountains and other features can bring a garden to life. Whether you have a small garden or a huge yard, your guests will find your water fountains attractive and peaceful.
Some of the many benefits of water features include:
Enjoyment – Both your family and your guests will enjoy sitting by your water feature during the spring and summer months.
Attractiveness – The water feature will make your yard more attractive.
Home Value Increase – From a practical standpoint, a water feature like a fountain or pond can help significantly increase the value of your home.
Water features are especially popular in Ann Arbor MI because residents spend much of their time outdoors with family and friends.
Is Summer the Right Time to Install a New Water Feature?
There are many things to consider when purchasing a water feature, and time of installation should be at the top of your list.
In Michigan, as in other parts of the country, water utility bills can often increase during the summer months. This is often caused by residents who use too much water to maintain their lawns and other parts of their yards. Proper water usage management can help lower utility bills, if necessary.
The summer and spring months are still the best time to install and use water features. To avoid costly water bills, simply turn off the water features if your family and friends aren't there to enjoy them.
The following basic tips will help you reduce your water bill while still being able to enjoy your outdoor water feature:
Reduce the amount of time your family spends in the shower.
Use less water when washing your dishes.
Turn on your sprinklers at night only and for shorter periods of time.
What Type of Water Feature Should I Invest in?
There are many different water features that consumers can choose from:
Garden Fountains
Ponds
Bird Baths
Waterfalls
Water Feature Combinations
The type you choose will likely depend on the amount of room you have for your feature and the amount of money you want to spend. For larger and more intricate features, you might have to alter a portion of your yard first.
Many consumers choose to go with a waterfall and pond combination for their backyards, while others prefer simplicity with a bird bath or fountain. When choosing a water feature in Ann Arbor, MI, it's important to consult with a professional about which water feature is best for you, and to have someone install the feature for you.