December 3, 2015
A lot of money, as well as time and effort, are spent by people trying to create the outdoor water features they want on their property. Individuals who live in and around Ann Arbor MI know they will have to take important steps to make certain these features survive the winter. A few simple steps in the fall can make enjoyment of them possible in the spring.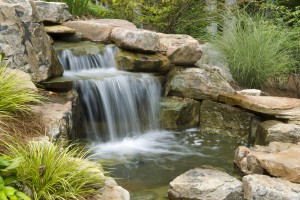 Water Features
There are a number of different water features a person can have. They range from a small container up to very large ponds. When water features are larger, it may be best to consult a pond expert and get their help with winterizing it. A person needs to determine which of their water features are likely to freeze and break in the cold. Things such as bird baths, shallow basins, bubbling rocks and more are likely to be destroyed if left outside during the intense cold.
Plant Removal
It is important the plants from an outdoor water feature be removed on or before the first frost. Once the plants have been taken out, it is important to clean all of the plant debris located at the bottom surface. Determine whether to keep the plants during the winter or get new ones in the spring. This is the time to clean the bottom of the pump vault. Should there be algae, it is important to use a granular contact algaecide that is water activated to clean. If there is algae staining the water feature, it will need to be drained. It will also need to be refilled prior to the cold of winter arrives. Refilling will help avoid damage.
Remove Debris
It is important in Ann Arbor MI to make certain the area around the water feature is free from debris like fallen leaves, branches as well as dead plants. If these items are permitted to build up, they can cause maintenance problems. When a person is planning to place an outdoor water feature on their property, they need to try and locate it away from areas of potential debris accumulation. Many professionals recommend owners cover the water supply with a net or trimming to avoid problems with debris.
Remove Pump
When a water pump freezes, the ice creates pressure on the pump's outer casing. This pressure can lead to cracks developing. It will also cause water to get into the interior of the pump. This is where the working parts of the pump are located as well as the electrical lines. If this happens to a pump, when a person turns it on in the spring, it won't work and will need to be replaced. The best way to avoid any problems is to remove the pump and store it inside for the duration of the Ann Arbor MI winter. This can insure having a working water pump in the spring. The water pump should be stored indoors or in an unheated garage. Some water features will also do better in the winter if they are dissembled and stored inside.
Get your yard looking its absolute best with custom landscaping solutions from Twin Oaks. Find us online at https://www.twinoakslandscape.biz/, visit us in Ann Arbor, MI at 4100 South Maple Road, or call us at (734) 213-6911.
"We recommend Twin Oaks to any entity looking for a full-service, talented, and responsive provider."
Therese Mahoney
Secretary/Treasurer of Doral Creek Condominium Association, Ann Arbor, Michigan