August 11, 2014
Outdoor living is the priority in Michigan as many residents want to create space they can enjoy with family and friends during the few warm month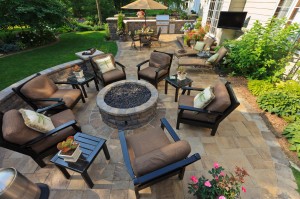 s of the year.  We have discovered over the past few years that our clients are looking for designs that include an "Open Concept" instead of enclosed decks and patios.  Like the open concept within a home, the same vibe is being requested for the outdoor environment with landscaping, gardens and patio flowing together for expansive views and a seamless connection with nature.
View a client's landscape design we created: http://www.youtube.com/watch?v=e527jBClcHc
An array of pavers and stones allow high-impact designs to play up more with different colors, textures, and shapes and offer little to no maintenance.  This open landscape concept also encompasses outdoor kitchens that include pizza overs, bars, wine coolers and racks, and appliances such as refrigerators and grills.  Game courts for basketball, volleyball and tennis have also become popular.  All the while, our most popular request is built-in fire places and pits that are often made of stone and pavers which are safer, and actually enhance your yard, more than portable pits.
"We recommend Twin Oaks to any entity looking for a full-service, talented, and responsive provider."
Therese Mahoney
Secretary/Treasurer of Doral Creek Condominium Association, Ann Arbor, Michigan