June 15, 2015
Outdoor lighting plays a major role in home security and curb appeal. With many kinds of lighting options to consider, homeowners can choose the kin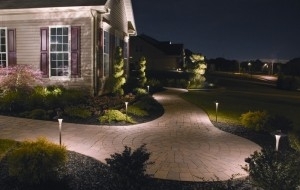 ds that will make their house feel and look safe. An Ann Arbor MI landscaping company can help you create a landscape design that utilizes effective lighting for the outside of your home and lawn. As you think about the outdoor lights for your property, here are a few things to keep in mind.
Timer switches.
Even though timer switches are usually placed on indoor lamps and lights, people set them to turn on after dark to make it seem as if someone is in the house. The light can be seen dimly through draperies or blinds to warn burglars that the home may not be empty.
Brighten the windows.
Lights on your home's exterior illuminate as well as highlight the areas you want to stand out. For example, window lights add a warm, inviting aspect to the appearance of your home. Just as important, window lighting helps to discourage burglars from trying to break in where they might be seen.
Light the entryways.
Porch lights and patio lights keep mischief away by lighting up the doors and entrances to your home. A simple lamp beside the door, a lamp post fixture, or overhead porch lights keep the areas leading into your home well-lit and discourage loiterers from trying to scope out your home for a possible crime.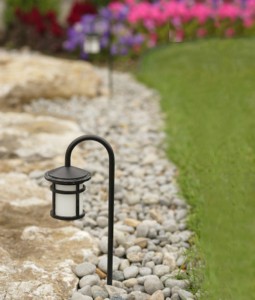 Flood the lawn.
Floodlights work very well in lighting a large area of lawn or garden where wild animals or human predators might venture. A brightly-lit lawn after dark will discourage anyone from getting too close to your home or illuminated area.
Footpath lights.
For safe use of the driveway and sidewalk leading up to the house at night, add footpath lighting along the edge of the lawn or landscape area. Soft lantern lights or solar lighting will illumine the walkways to keep people from tripping or falling. They work great in patio and garden areas as well, for night-time relaxation and strolling.
Motion sensor lights.
Outdoor lights mounted at the corner of the house or outbuilding or on any exterior wall are perfect for scaring away animal or human predators. When motion about the size of a dog or larger is detected, the light beams on, sending the intruder running.
Decorative lighting.
Strings of white or colored lights can be hung on porches, fences, and trees for festive occasions or seasonal commemorations. Other light fixtures can be mounted on the garage or shed, along with outdoor fountains, gazebos, and other attractive places.
Although some of these options may be handled by the homeowner, an Ann Arbor MI landscape designer can help to create a coordinating design that mes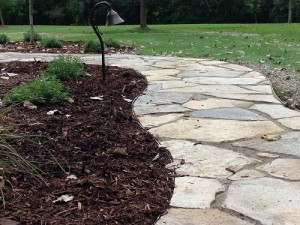 hes everything into an attractive display. Outdoor lighting is an important feature of a home that should be utilized in a meaningful way. Let an experienced landscaper help you orchestrate a beautiful outdoor lighting arrangement to keep your home safe.
Get your yard looking its absolute best with custom landscaping solutions from Twin Oaks. Find us online at https://www.twinoakslandscape.biz/, visit us in Ann Arbor, MI at 4100 South Maple Road, or call us at (734) 213-6911.
"We recommend Twin Oaks to any entity looking for a full-service, talented, and responsive provider."
Therese Mahoney
Secretary/Treasurer of Doral Creek Condominium Association, Ann Arbor, Michigan