February 18, 2015
In addition to adding security and safety to your home in Ann Arbor MI, outdoor lighti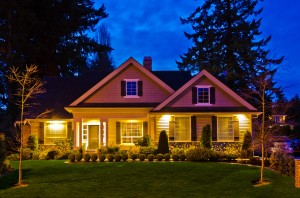 ng makes it more aesthetically pleasing. For homeowners wanting to sell a home quickly, landscape lights are a great option. While many individuals may consider illuminating landscape as something that only public buildings or large businesses do, the decorative effect is also useful for private residences. If you are worried about the costs of fuel for exterior illumination, then consider an assortment of options, including:
• Natural gas – wall lanterns and fixed post lamps
• Solar power – panels and fiber optics
• Electricity – neon lamps and compact fluorescent lightbulbs
Lighting can focus on Architectural or Landscaping Details
To have the best outdoor lighting design for a home, have a landscape architect visit to walk around the exterior to see where to place fixtures. For the most attractive curb appeal, the architect must consider the distance of the home from the street to ensure the lights are noticeable. Placing lights outside a home for aesthetics is meant to help visitors focus on specific architectural aspects of the building, such as floor to ceiling windows, gabled rooftops or decorative entranceways. For additional interest the architect may illuminate foliage such as trees, shrubbery or gardens.
Light Fixtures are Available in many Styles
For additional curb appeal in Ann Arbor MI, placing lights near garages, patios and driveways is a fantastic idea to illuminate the spaces for both beauty and safety. If your home is on the market, then make sure to turn these lights on beginning at dusk to grab a potential buyer's attention. Because of the harsh winter weather conditions in this geographic zone, make sure that wall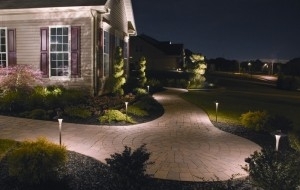 mounted fixtures are placed away from high levels of snow but are still accessible to change lightbulbs or make repairs. Select light fixtures that coordinate or complement the home in styles such as:
• Contemporary
• Mediterranean
• Modern
• Colonial
• Classical
Select Particular Types of Glass for Additional Curb Appeal
Things to consider when choosing outdoor lighting is the type of glass in the fixture that also provides curb appeal. Light fixtures may have etched, frosted or translucent glass to provide bright or diffused illumination. Choosing the correct fixture along with lightbulb variety can help you and visitors to see the color of a home's exterior walls that are made of decorative stonework, brick or siding. For an interesting effect, homeowners may want many small exterior light fixtures rather than one large one. This concept is especially appropriate near walkways and driveways where you want to see the extended surfaces to avoid falling in wet or icy weather conditions.
Landscapers can assist with Selecting Exterior Lights
Contacting a knowledgeable local landscaper in Ann Arbor MI for suggestions concerning exterior lighting to add beauty to your home is helpful. Landscapers are available year-round to assist with adding decorative elements to residential properties. With modern computer software, a landscaper can show you different ideas for light fixtures, including seeing how the devices illuminate at dusk or late at night. The software can also show homeowners how the light fixtures will look in different seasons with green lawns or deep snow.
Construct the perfect patio, walkway, or porch with custom hardscaping services from Twin Oaks Landscape.
Find us online at https://www.twinoakslandscape.biz/, visit us in Ann Arbor, MI at 4100 South Maple Road, or call us at (734) 213-6911.
"We recommend Twin Oaks to any entity looking for a full-service, talented, and responsive provider."
Therese Mahoney
Secretary/Treasurer of Doral Creek Condominium Association, Ann Arbor, Michigan