June 28, 2014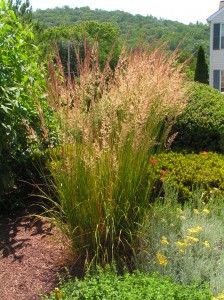 Panicum – "Heavy Metal"
Generally best in full sun. Will grow in part shade, but begins to lose its columnar form in too much shade, growing more openly and possibly falling over. Grows primarily in clumps, but may infrequently spread by rhizomes. Also may self-seed in optimum growing conditions, however, 'Heavy Metal' does not come true from seed and self-seeded plants may be best removed from a planting to preserve the uniformity of the foliage color. Cut back clumps to the ground in late winter to early spring.
'Hameln'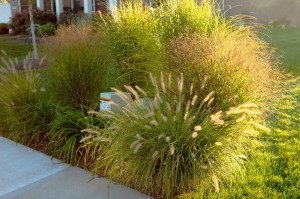 Grass
A low-maintenance, non-invasive grass, 'Hameln' has a compact, clump-forming habit. The foliage has a fine texture and should be trimmed back in the spring to a height of 3-5″. It is drought resistant once established and does not self-sow. 'Hameln' does its most active growing in the warmer part of the season and also does well in cold climates. Dwarf Fountain Grass can reach 2-3 feet in height with a 1-2 foot spread at maturity. This grass is ideal for locations where larger grasses are not desired such as in a mixed perennial or shrub bed. 'Hameln.' This is the standard in the nursery trade due to its compact habit (dwarf, to 2 feet high and wide). It flowers about two weeks earlier than the species. Do an annual March pruning of the dead foliage to just above the ground.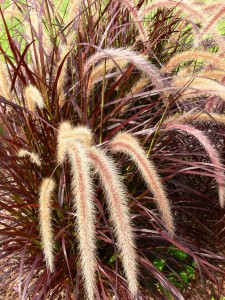 Red Fountain Grass
Although not hardy in northern areas, annual fountain grass is an outstanding accent plant for the annual border. It is very fast growing and will form a large clump. It tends to be an arching, upright plant. There are green leaved and red leaved forms. The green leaved forms are easy to grow from seed and produce nice sized plants by mid-summer. The red leaved forms are propagated only by division or cuttings and are the most commonly planted producing burgundy red leaves and flower heads. Plants may be overwintered by digging them up in the fall and bringing the crowns indoors before frost. In the spring, the crowns may be divided. Cultivars to look for are 'Rubrum' or 'Burgundy Giant'.
Karl Foerester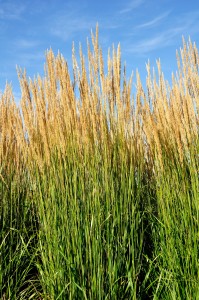 This is our area's most popular ornamental grass. Leaf blades are 2 to 3 feet long and a deep, shiny green. Loose, feathery flowers atop 5-foot stems appear in June and are initially light pink in color. As the seed heads mature, they become very narrow and turn a golden tan color that lasts through the fall. One of the distinguishing and highly regarded features of 'Karl Foerster' compared to other varieties is its narrow and upright growth. At only 18 inches wide and up to 5 feet tall, a grouping creates a dramatic vertical element in gardens.
"We recommend Twin Oaks to any entity looking for a full-service, talented, and responsive provider."
Therese Mahoney
Secretary/Treasurer of Doral Creek Condominium Association, Ann Arbor, Michigan