May 23, 2016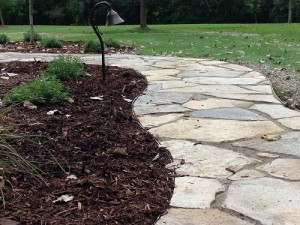 Natural stone is a hard and beautiful surface that lends itself to many useful purposes around the house. Although it may involve more initial labor in installation, hardscapes made of stone provides a superior, durable surface that will give the homeowner many years of service. Hardscaping with stone is a very good choice for a location like Ann Arbor MI because it is very weather resistant. Freezing temperatures, ice, and snow will not make an impact on stone.
For Your Home's Front Walk
Stone used as paving to the front door of an Ann Arbor MI, home can be much more beautiful and interesting than a plain, gray concrete walkway. You can use the stone to not only hide the concrete but to create textural interest and lend a sense of elegance to the residence. When choosing stone for a front walkway, be sure and select colors that will compliment the home and enhance its appearance. For instance, if you have a brick home, choose a type of stone that will match or complement the reddish hues of the brick, not detract from its appearance.
Around A Swimming Pool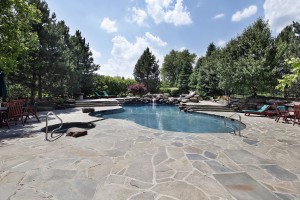 Hardscaping around a swimming pool with natural stone can enhance the looks and beauty of the pool. Stone is very resistant to water and is a very good choice for achieving a natural look when landscaping around a swimming pool. Be sure and choose types of stone that provide some texture underfoot and will not be slippery when wet. This will help provide a safe swimming environment for you and your family. If your pool has a vividly colored liner, be sure and select a stone that will look good with that color and create a visually pleasing total look.
Stone is also a good choice when seeking to achieve the natural look in a swimming pool, helping it to blend into the typical landscaping of Ann Arbor MI, instead of standing out like something artificial.
Beautify A Patio
Investing in stone for a patio will provide a lovely and durable area to enjoy your family at home. Stone is strong enough to hold up under heavy traffic and resist messy spills from grilling, food, and drinks. It will not easily break, even if heavy objects are dropped on it. Surrounded by colorful flowers and green grass, your lovely stone patio will provide many years of dependable service.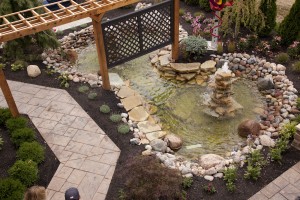 A Solution For Damp Areas
A homeowner can rely on the strength of stone to provide dry hardscapes that are waterproof and will not decay like wood when in contact with high levels of moisture. If abundant rainfall or melting snow creates wet spots in your yard, covering the spot with natural stone can solve the problem.
Not only will you keep your feet dry when walking outside, but you will avoid tracking mud into your home which could eventually ruin the floors. A stone hardscape will also help keep children's shoes and clothing clean and dry and keep pets out of the mud as well.
If you're interested in installing a stone hardscape in your yard contact Twin Oaks today.
"We recommend Twin Oaks to any entity looking for a full-service, talented, and responsive provider."
Therese Mahoney
Secretary/Treasurer of Doral Creek Condominium Association, Ann Arbor, Michigan