May 25, 2014
If you have a patio kitchen in Ann Arbor, then it's natural to be worried about the weather and maintenance. In addition to dealing with damage from the sun during the summer, you also have to worry about freezing winter temperatures. Here are a few tips to help you maintain your kitchen and ensure that it lasts for years to come.
Start with Quality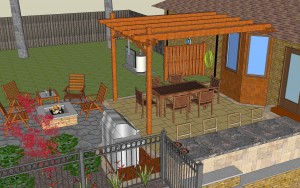 If you want your outdoor cooking space to last, then you should invest in quality products from the beginning. Solid granite counter tops will last longer than imitations, and a grill made with thick, durable stainless steel will hold up better than the bargain basement ones crafted out of thin sheet metal.
Regular Cleaning
Don't rely on the rain and wind to keep the exterior of your appliances clean. In addition to scrubbing down the interior after every use, you should also invest in appropriate cleaners to make the exterior shine it look like new. As you're cleaning the surface, you can look for any damage and address that while it's still a small problem.
Protecti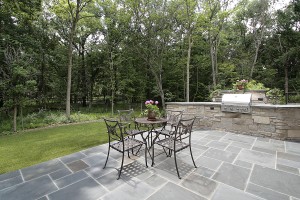 on from the Elements
Ideally, your cooking area should have protection from the Ann Arbor, MI, weather. An elegant arbor will provide some protection from the sun while adding a pleasant visual look. Elegant curtains draped around the space will help to shade the area while making it feel more luxurious. Use landscaping or decorative walls to help block the wind and give your kitchen a little more protection. In the wintertime, the appliances should either be disconnected and stored in a watertight shed, or they should be covered with canvas to help protect them. Any water lines going to the kitchen should be shut down and safely cleared to avoid freezing and other hazards.
Protection from Regular Use
In addition to protecting your kitchen from the sun and rain, you also need to protect it from stains, scratches and general wear. Seal your counters annually to keep them waterproof and prevent stains. Use cutting boards to avoid marring the surface. If you use cast iron, then keep it oiled to prevent rusting. Finally, use the appropriate cleaners and protectors on stainless steel to preserve the attractive finish.
Add Extra Storage
You need to have plenty of storage for your outdoor kitchen. While you can safely leave a jar of utensils sitting on your indoor kitchen counter, that same jar outside can be knocked over by the wind and leave nasty scratches on your counter top. When you're planning and designing your kitchen, make sure that you create plenty of storage for keeping everything neatly tucked away.
Work with a professional Ann Arbor, Michigan, landscaping company when you're ready to create your beautiful outdoor kitchen. Our professional team is highly experienced in this area, and we can help you create a kitchen that's easy to maintain and will last for many years. In addition to designing and installing the kitchen, we can also landscape the surrounding area to make it more attractive and functional. Your outdoor kitchen represents a major investment, so you want to create one that suits your needs and will become an asset to your home.
"We recommend Twin Oaks to any entity looking for a full-service, talented, and responsive provider."
Therese Mahoney
Secretary/Treasurer of Doral Creek Condominium Association, Ann Arbor, Michigan