June 26, 2015
When you have sprinklers lying around your lawn, there are some minor issues you will need to deal with. Not everything is going to be perfect, your lawn and irrigation systems is one of those things.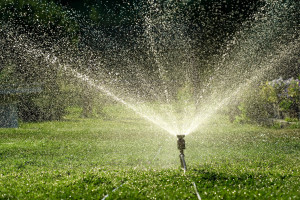 Here are some simple tricks and tips to keep things moving in a positive direction.
YOUR SPRINKLER IS SPRAYING BADLY
There could be a few things wrong here. Is your system turned on all the way? This happened to a friend of mine. Only problem was his system was clogged. This happens a lot. Dirt and debris can get into your sprinkler and irrigation system. You will need to clean it; that is, if you want your system to work properly.
First things first, try to clean the head. Get in there with a wire. If that doesn't work, you may need to remove the head. You might need to flush the inside screen. If you are still having issues, the pressure might be too low.
You can also try turning the head in the right direction. Sometimes that takes care of the problem.
A LEAKY FAUCET OUTDOORS
Inside the hose bibb is a faucet which controls the water. This might be worn out. To fix the problem, you will need to take everything a part. You will need to replace the washer. Once this is done, put it back together again. This should take care of the problem. If it doesn't, you should talk to someone.
THE SPRINKLER RISER HAS WATER GUSHING
The water gushing out is not your problem. If you turn off the valve and the water stops, this is where the problem lies. There could be one of three issues here:
1)The sprinkler head is loose
2)The sprinkler head has fallen off
3)The riser is broken
Either way, you will need to replace the sprinkler head. Before you start, don't forget to turn the valve off.
The next question involves replacing the sprinkler head. Many people ask, "What type of head do I get?" This all depends on what type you already have.
A RAISED HEAD—Just hold the head with lock-jaw pliers and twist it counterclockwise. When you make the turn, use a wrench.
GROUND-LEVEL SPRINKLER–For this, you will need to dig down. You will have to, in order to unscrew the riser.
LAWN SPRINKLERS–These are more flush. These are also more difficult to grab hold of, but not impossible. Just use a Universal head wrench.
LAWN IRRIGATION REPAIR: ANN ARBOR MI—SOME FINAL POINTS
Whatever type of head you get, it will require you to do some legwork. You will need to get down into the dirt and remove all the debris. Remove any broken pieces you might find in your way. Everything needs to be cleared out, for when you do replace the head. Get the appropriate head and everything should be fine.
Looking for more tips on how to handle your water irrigation problems in Ann Arbor MI? Go online to our site. Speak with one of our staff members. All of which are professionally trained.
Get your yard looking its absolute best with custom landscaping solutions from Twin Oaks. Find us online at https://www.twinoakslandscape.biz/, visit us in Ann Arbor, MI at 4100 South Maple Road, or call us at (734) 213-6911.
"We recommend Twin Oaks to any entity looking for a full-service, talented, and responsive provider."
Therese Mahoney
Secretary/Treasurer of Doral Creek Condominium Association, Ann Arbor, Michigan