Lawn Irrigation Installation for Your Ann Arbor Home
Part of landscaping a yard that brings out lush beauty in the grass is having a reliable irrigation system installed in the yard. Your grass, plants, and shrubbery needs the constant flow of water especially in drier times of the year when rain doesn't fall as frequently. Most of the irrigation systems that are usually thought of are sprinklers, but drip irrigation systems can be useful when a lower amount of water or moisture is needed in certain areas. Quality lawn irrigation installation not only delivers the right amount of water to your soil, it maximizes the efficiency of both water and power usage which is why our Ann Arbor MI landscaping team is ready to do this for you.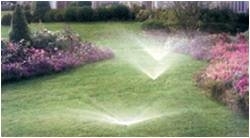 Irrigation System Over Garden Sprinklers
So maybe you have a portable garden sprinkler and you're wondering "why would I want to spend money on an expensive irrigation system?" Irrigation systems may not be quite as expensive as you think and if installed and maintained properly, they can make your investment quite worth it. There are other things to keep in mind such as:
1. Irrigation systems are built and piped under the ground so unlike garden sprinklers, you don't have to drag a hose around the yard to try and water everything, and you can save on storage space when it's not in use.
2. You can place irrigation systems so that they are out of the way of lawn mowers, vehicles and pedestrian walking areas but still get maximum water to the plants.
3. You just simply hit the switch to turn on the system or set a custom timer to start it up and away it goes. Most new irrigation systems also have a rain sensor on them that can tell if recent rain has watered the ground.
Irrigation System Installation Process
A lawn irrigation installation is not too invasive of a process, and it usually doesn't take too long to setup. But there will be some minor construction activities such as digging some trench lines to set the irrigation pipes and install the valves, and connecting the irrigation pipes to your main water line. The project manager works carefully with you to make sure that the most efficient installation is done, and will do the following:
Draw a plan of your landscape schematics to decide how to route your irrigation system for best use
Oversee the installation process and make sure no other equipment such as electrical, telephone, or other utility lines are disrupted
Show you how to work the controls, monitor the system and test it to make sure it works
Give you tips for the times of year when it is not in use such as the winter and tell you if you need to perform any preventative maintenance on it
So with these factors in mind, consider having our Ann Arbor MI landscaping team install an irrigation system in your yard. Your grass needs to stay fresh and green and having an irrigation system can do that for it.
Get your yard looking its absolute best with custom landscaping solutions from Twin Oaks. Find us online at https://www.twinoakslandscape.biz/, visit us in Ann Arbor, MI at 4100 South Maple Road, or call us at (734) 213-6911.