How a Lawn Fertilizing Service Can Enhance Your Yard
A lawn fertilizing service will enhance your yard by providing essential nutrition. You will notice that your lawn will start growing faster after only one fertilizing service. If mold is an issue, it will no longer be a problem and you will see your lawn damage start to disappear. Many people in Ann Arbor MI notice some mold damage after the winter snow melts. This problem can be solved by a lawn fertilizing service along with some light raking. Be sure to use an organic lawn fertilizing service before you add lawn seeds after winter to avoid problems.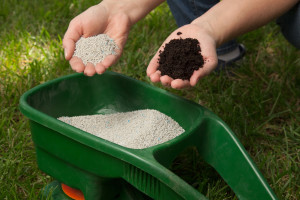 Choose Lawn Experts to get Things Done Right the First Time
We offer the best lawn services and use most effective methods of fertilizing known to man. The person that will be servicing your lawn will be an expert with several years of experience maintaining healthy beautiful lawns all over Ann Arbor MI. There are many companies in Ann Arbor MI who try to do what we do and are not able to. We offer the best products that are not offered anywhere else. Call us today to get an estimate from a master lawn serviceman who will help you have the lawn of your dreams. Soil tests are done by our experts to determine the best for your lawn not only in the short run, but also for many years to come.
Our Customers Love our Work and Come Back Again
Select a fertilizing service that has won awards and has built a reputation of excellent results. Do not pay an inexperienced lawn service that charges too much and cannot get the job done. In order to get the best results experts say that you should get your lawn serviced as often as possible. You are going to require about 5 applications per year so make sure you go with an expert who can consistently provide the best service and products at a low price. Customers who pre pay for their services will get an added discount.
A Healthy Lawn is a Happy Lawn
A lawn that is regularly fertilized will be:
•Healthy
•Disease Free
•Weed Free
•Mold Free
•Pest Free
This will be the type of lawn that people notice when they drive by and the kids will love to play and roll around on. Besides having a lawn with strong roots and no insects, you would be please to know that your lawn is helping the environment by providing more oxygen into the atmosphere. Your hot summer days will also be a few degrees cooler thanks to your fertilized healthy lawn.
Having a thriving lawn requires continuous maintenance.
The problem is that there is always news about lawn service companies who are expensive and provide disappointing results. Ask for references, make sure your lawn service is done by an expert, and shop around to make sure you are not being overcharged. If your grass is not thicker and greener, this is a sign that the lawn service is cutting some corners and not doing their job right.
Get your yard looking its absolute best with custom landscaping solutions from Twin Oaks. Find us online at https://www.twinoakslandscape.biz/, visit us in Ann Arbor, MI at 4100 South Maple Road, or call us at (734) 213-6911.