Lawn Care Weed Control Services for Your Ann Arbor Garden
There is nothing like a beautiful lawn and garden. It offers a bit of zen during the spring and summer months, when you can spend your time outside and enjoy the beautiful Michigan weather as it turns from snow to pure beauty. But lawn care is not all fun and games. There are a good number of weeds and other problems that can come up, wreaking havoc on your lawn. Everything from hand weeding to the weed and feed products available at the store might not do what you want it to. So how do you go about correcting this problem? You just need to bring in the Ann Arbor MI lawn care weed control professionals. These way, your lawn looks as beautiful as ever before and you don't need to worry about spending all of your time trying to rid the lawn of all these problematic issues that come up.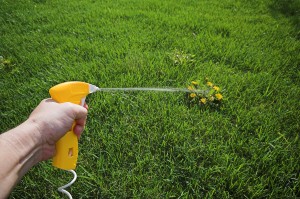 There are many benefits associated with Ann Arbor MI lawn care weed control. Some of these benefits include:
– A better looking lawn
– A health lawn without all of the blemishes
– No dangerous chemicals are used to remove the weeds
A Better Look Lawn
It doesn't matter what kind of lawn you have, by ridding the weeds from it you are going to have a beautiful lawn that is worthy of showing off. This can even increase the value of your home as the curb appeal goes up. If you intend on selling your home sometime in the near future, you are able to do exactly this without much of a problem at all.
A Healthier Lawn Without the Blemishes
Weeds have a way of taking over. If you do not take care of the weeds sooner rather than later, you might not have much of a lawn left. The rooting system of weeds grow faster than grass, and if you keep the lawn short, the roots of the grass remain short as well. When this happens, the roots of weeds can choke out the grass and take control of the entire lawn. This is not something you want, and with the help of the Ann Arbor Mi lawn care weed control, you can have your lawn looking as beautiful as ever, without all of the blemishes and problem areas.
No Dangerous Chemicals
One of the problems of trying to do all of the lawn care on your own is the sheer number of dangerous chemicals sold at the local nursery. There is the general weed and feed products, but these are not great for ridding your lawn of large amounts of weeds. On top of this, it is also difficult for you to remove the weeds quickly, and if you want to improve the appearance of your lawn sooner rather than later, the best way to do this is with the help of weed control professionals in Ann Arbor. The products they use are not harmful, so your pets and children are always safe to play.
Get your yard looking its absolute best with custom landscaping solutions from Twin Oaks. Find us online at https://www.twinoakslandscape.biz/, visit us in Ann Arbor, MI at 4100 South Maple Road, or call us at (734) 213-6911.