Landscaping Ideas to Consider for Your Ann Arbor Yard
You may want to change up the look of your yard, but you aren't sure how to do that. The dilemma of what changes you should make occurs, and you are left feeling a bit helpless. There are so many things that you don't like about the way that your yard is looking currently, but you worry that once you hire a landscaper to come in things will just get worse than they are right now.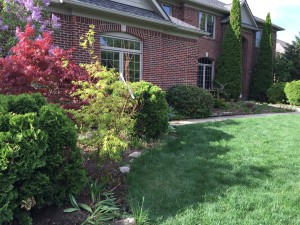 Everyone goes through the fear of the unknown once in a while, but as long as you hire someone who is good at landscaping, then you should trust them to get your yard looking great.
Five Landscaping Ideas For You To Consider
1. Brick paths. Brick paths are a beautiful way to add some character to your yard. They will make everything seem a bit more elegant, and you are going to feel proud of the way that your yard is looking once they have been laid out.
2. Add water. Adding some kind of water to your yard, whether through a water fountain, a small water fall, or a pond, will add something special that not everyone in your area has. The water will set you apart from your neighbors, and it will make your yard somewhere that you love.
3. Bushes. Pick out the bushes that you want in your yard carefully, and decide just how many you would like around your place. There are so many different kinds of bushes, and you will be sure to love the look of them in your yard once you've picked out the perfect kind.
4. Flowers. Everyone has flowers, but who says that you have to do them in the traditional way? Have your flowers planted along the brick paths that you have had laid out. Have them planted in barrels throughout the yard. Do something different and fun with them, and you will be sure to love the way that they turn out looking.
5. Rocks. Adding some rocks to various places in your yard, whether around trees or near your house, can do a lot to the look of your place. You will love how dressed up everything will seem once the rocks have been carefully placed in your yard. They will be the perfect addition, along with everything else.
So, if you have been hesitating about having someone get started on the landscaping that needs to be done to your Ann Arbor MI home, then take a good look at the list above. There will be sure to be some ideas that will stand out to you as being something that you would like done. Whether that is having some water added to your yard, having a bunch of pretty flowers planted, or putting in a brick path, whatever you choose to go with from the landscaping ideas above, you will be sure to be pleased with the results. Hire the right Ann Arbor MI landscapers, and they will fix up your yard to perfection.
Get your yard looking its absolute best with custom landscaping solutions from Twin Oaks. Find us online at https://www.twinoakslandscape.biz/, visit us in Ann Arbor, MI at 4100 South Maple Road, or call us at (734) 213-6911.