Landscaping Ideas to Consider for Your Ann Arbor Yard
The landscaping that surrounds your property can absolutely make or break how your home looks and a lot of people put a lot of time and effort into getting their landscapes to look great. However, most people work full time jobs and do not have the time to perfect the way that their plants and bushes look, so it can be a great idea to hire a professional landscaping company, who can take care of all of your landscaping needs. A great deal of people want their yards to look great but do not have a great deal of landscaping ideas, or the knowledge of what will look good for their particular property. For this reason, getting landscaping ideas from a company that specializes in this will help you to get your yard looking amazing in no time. Here are some great options for you to consider for your yard.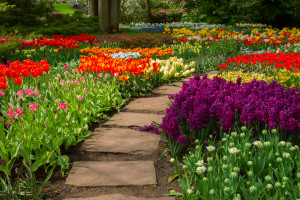 Fountains and Ponds
Although greenery is essential for any property to look great, one of the things that makes yards truly feel great is the addition of water in the form of one or more ponds, or fountains. Ponds are easier to put in than you might think, although they typically cost a bit more money and are a little bit harder to maintain, but the increase in comfort and ambiance in your yard will be well worth it.
Walkways and Sitting Areas
*Many people have large yards that are fairly basic and will have simple bushes that are on the outsides of the property, with grass filling in the center. A great way to liven up your yard is to add walkways through the property, which can be made by a variety of stone materials.
*Your landscaper will have various designs that they can incorporate into your yard, which will absolutely make your yard look great, although you can take it to another level and add in an awning or a sitting area at the end of the walkway.
Exotic Plants
*Most yards have the same typical plants that you would find in the general vicinity of the home. However, one way to make your house truly stand out and to give your landscaping a ton of flavor is by adding in tropical and exotic plants to your yard.
*Although you will have to check with your landscaper and make sure this is compatible with your general area, most of the time they will have access to various exotic plants that you can incorporate into your yard, which will make your yard shine when it comes to the rest of the neighborhood.
*Finding a great landscaping company to work on your yard is key, so if you want to find the best companies in your area, you should definitely hop on the internet and do some research in your area. If you live in the Ann Arbor MI area, for example, you may want to head over to Google or another search engine and do a search for "Ann Arbor MI Landscaping Companies Reviews", which will give you a list of options to choose from.
Get your yard looking its absolute best with custom landscaping solutions from Twin Oaks. Find us online at https://www.twinoakslandscape.biz/, visit us in Ann Arbor, MI at 4100 South Maple Road, or call us at (734) 213-6911.