Landscaping Design Services for Ann Arbor Homeowners
Landscaping
is an essential part of any home. A house with the right kind of landscaping will be instantly inviting and make people feel happy the moment they set foot on the property. When thinking about the kind of landscaping to have on any given property, several factors must be taken into account during the process. These factors include the size of the property, the location of the property and the kind of budget that the homeowner has in mind. Landscaping design of any type will need to be thought out carefully in order to look well with the overall property design and help the entire space look like a coherent whole.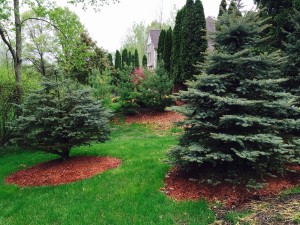 One of the most important considerations when thinking about any landscaping services is the area climate. Climate impacts landscaping in many ways including:
the size of the plantings;
the type of material used;
the kind of maintenance required.
This is particularly true of those homeowners who are looking for plantings in places such as Ann Arbor MI. This region of the country has a brisk, four season climate where temperature extremes are common. Winters tend to be very cold with a great deal of snow. Spring and fall often see heavy rainfall. Summers are quite hot and humid here with temperatures often climbing quite rapidly in the course of a single day. All landscaping design in Ann Arbor MI should be carefully planned to bear in mind such temperatures. All plantings should be done in a way that is mindful of such potential changes in any given time frame.
A good landscaping company will keep all such factors in mind throughout the entire process of designing a landscaping plan for the homeowner. They will carefully pay attention to all the living materials that are being used in such a design as well as other elements of the design that is going to be used such as brick, wood chips and any kind of paving materials. This will help the design stand up even when it is very hot or cold outside. It will also help the homeowner relax because they know that the landscaping they have chosen to use is going to remain in good condition and be pleasing to the eye at all times.
The landscaping plan that is created for any given homeowner should also look good at all times of the year. This is why many landscapers who work in areas that experience changes in temperature take into account the hardiness of all the materials they use as well as when one particular kind of plant is likely to bloom. A good design will have elements that are in bloom all during the year. A good design will also look good even when the land is covered with snow or it is really hot and humid outside. All elements used should work together to create a harmonious and pleasing whole that helps make the entire house look good.
Get your yard looking its absolute best with custom landscaping solutions from Twin Oaks. Find us online at https://www.twinoakslandscape.biz/, visit us in Ann Arbor, MI at 4100 South Maple Road, or call us at (734) 213-6911.