Landscape Design Services for Your Ann Arbor MI Property
Do you want to beautify your lawn but don't know where to start? Many people here in Ann Arbor MI try to turn an ordinary lawn into something extraordinary. While some are able to pull it off with lots of labor and tons of sweat not everyone has an eye for landscaping. It takes a lot of time to sit down and plan a landscaping project and even longer to implement it. So instead of wrecking your brain and breaking your back, why not hire a professional landscaping company to handle the dirty work for you? There are a lot of benefits to hiring a professional and below are several great reasons why you should too.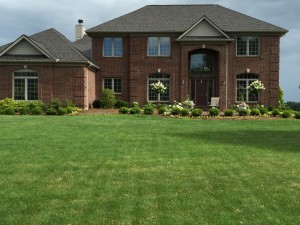 Five Benefits of Hiring Landscape Design Services
1. Lower cost on materials- One of the benefits of hiring landscape design services is getting a better deal on plants and materials. These professional services-owned gets discounts for buying in bulk and they often pass that saving on to their customers. While you will still have to pay for labor you will be getting a much better deal on those beautiful plants that you have always wanted.
2. They are experts on plants- Some plants will not grow very well when placed next to each other. Others need more shade and some need full sunlight. The art of placing the right plants in the right areas of the yard can be difficult. Some yards in Ann Arbor MI can prove to be a real challenge due to there size and location. This is where a professional landscaping service comes in. Using their expert know how and advanced computer software they are able to plan a beautiful yard that will thrive.
3. You don't have to give up your weekends- It takes a lot of work to landscape a yard. Depending on the size of your yard you might have to spend several months planning and planting. Most of us who live busy lives simply don't have that much free time. So hiring someone else to do the work makes perfect sense.
4. They can help you stay on budget- Landscaping projects can go way out of budget really quickly. By hiring someone that knows the business to help you plan your project they will be able to help you stay on budget. When you hire a professional they will sit down with you and plan a budget long before they start working on the design.
5. They can work around your schedule- Many landscaping companies will not only work around your budget but will also try to work around your time frame. If you need your yard ready for a wedding or an event that is going to happen in the next few months, many companies can help. Instead of you the homeowner and maybe a few friends trying to do a rush job getting your yard ready, why not allow a landscaping company to handle it for you? They will bring in more than a few workers and will have the job done very quickly.
Get your yard looking its absolute best with custom landscaping solutions from Twin Oaks. Find us online at https://www.twinoakslandscape.biz/, visit us in Ann Arbor, MI at 4100 South Maple Road, or call us at (734) 213-6911.