Landscape Contractors Can Transform Your Home
No one likes to look at a boring yard. If you've lived with just grass or dirt in your front yard, it might be time for a landscaping upgrade. Landscape contractors can improve the look and value of your home by using a variety of landscaping techniques, and can do so on any type of budget. From beautiful front yard streams and ground lighting to blooming roses and a nicely manicured lawn, your front yard can be transformed into a neighborhood oasis in no time.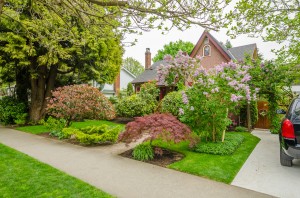 The Benefits of Using Landscape Contractors in Ann Arbor MI
There are a variety of benefits to hiring a professional landscaping contractor to help improve the look and feel of your property.
Increases The Value of Your Property: If you plan on selling your home in the near future, a quality landscaping job will help increase the value of your property and attract more buyers.
Decreases Stress Levels: When you've created an inviting area for you and your family to enjoy steps from your front door, you decrease your stress levels because you now have a place to sit and relax without having to drive to a local park or lake.
Entertain More Guests: You'll be able to host more barbecues and family gatherings once you've improved your property with a quality landscaping job. People will enjoy the sitting environment that you've create for them and will be asking to visit you more often.
How to Transform Your Home By Hiring Landscaping Professionals
There are a variety of methods that landscaping contractors can use to help you improve the look and feel of your property in Ann Arbor MI:
Rock and Water Features: Installing attractive rock and water features, such as small streams or waterfalls can help add a touch of serenity to any yard.
Ground Lighting: A quality landscaping job should be enjoyed at all times of the day and night, and installing ground lighting is a great way to help accomplish this goal. The lights should be installed on both sides of the main walkway and around the main features of your landscaped yard.
Trees, Flowers and Shrubs: Landscapers know which flowers, trees and plants work well together and will help you make a decision about which species to choose to help you make your yard more attractive.
Choosing the Best Landscaping Contractor
There are a variety of landscaping contractors to choose from in the Ann Arbor area. To help you decide which one is best for your needs, the following questions should be asked when speaking with potential candidates:
Experience– Ask the landscaper about his or her experience. Determine how many clients they've worked for in the past and what types of designs were implemented. The only exception to this rule is if you find a landscaper who has an exceptional eye for design and is able to implement the design flawlessly.
References– You should be able to check references for each landscaper you interview. If they're unable to provide you with any references, or the references you speak to have only negative things to say about the landscaping company, it's best to stay away from them.
Design Ideas– Ask the contractor if he or she has any landscaping design ideas that would fit well with your property. This question is especially important because it will help determine whether or not their ideas closely match to what you want your property to look like in the future.
Get your yard looking its absolute best with custom landscaping solutions from Twin Oaks. Find us online at https://www.twinoakslandscape.biz/, visit us in Ann Arbor, MI at 4100 South Maple Road, or call us at (734) 213-6911.