October 23, 2015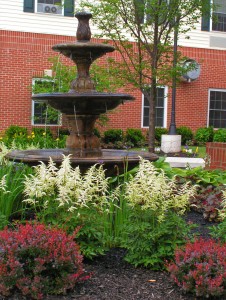 The right landscaping in Ann Arbor, MI can turn your yard into a beautiful oasis for you to enjoy all year. The soothing sounds of a water feature and the vibrant colors of the changing leaves in Michigan make for a great combination in any landscape. However visually appealing the coloring of the trees is, they make for a not so great addition to your outside water feature. When you live in areas like Scio or Whitmore Lake, keeping these yearly intruders out of your water features and under control are easy with these handy tips and tricks.
Small Ponds and Features
Many people enjoy small areas of flowing water or fish ponds. These water areas are easy to manage with a few preventative actions.
Black Netting
To control the leaves from entering small areas it is possible to cover the area with a section of black netting. Place the netting over the entire pond area and secure around the outside. This will keep the leaves above the water and the netting removes easily with the leaves securely inside. For areas with large amounts of leaf dropping, you can empty the net into a composting area and replaced as often as necessary.
Manual Removal
A not so popular and time-consuming method is removing the debris by hand regularly. Although this method will result in a clean pond, the maintenance and time factor may make this an unpopular choice for eliminating leaves from the ponds in Michigan.
Planned Planting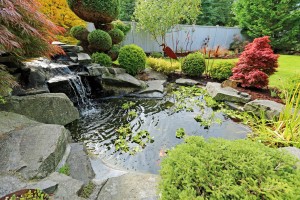 Being aware of where you are placing new trees or a new water feature on a property in Ann Arbor MI may reduce or eliminate the need for this type of maintenance. Keeping trees that drop their leaves or needles in the fall away from your outdoor water feature will aid in the reduction of the amount of debris that is able to reach the pond.
Large Ponds
For those who enjoy a larger pond or lake on their property it is more difficult to keep this type of debris out of their oversized outdoor water feature. There are steps that you can take to reduce the amount of harmful decomposing debris that reaches the bottom.
Shorelines
Clear away shorelines by hand with rakes and put the debris in compost piles or old growing beds.
Bacterial Pellets
It is possible to use bacterial pellets to breakdown the unwanted materials that have settled on the bottom of the body of water. Water temperature is a major factor in the success of this method.
Aerate
Add an aeration system to the water feature. This removes dangerous gases such as ammonia and it adds oxygen for the fish and plants that grow naturally. An aeration system will also keep the water from winter freeze-over during the frigid winters in Ann Arbor MI.
In Ann Arbor MI when debris from fallen leaves, twigs, and needles sink to the bottom of your outdoor water feature, they begin to decompose and cause a number of unwanted problems. It is essential that you eliminate these unwanted elements. You can make this necessary but unpopular chore easier with a little preparation and diligence, using these handy guides and tips.
Get your yard looking its absolute best with custom landscaping solutions from Twin Oaks. Find us online at https://www.twinoakslandscape.biz/, visit us in Ann Arbor, MI at 4100 South Maple Road, or call us at (734) 213-6911.
"We recommend Twin Oaks to any entity looking for a full-service, talented, and responsive provider."
Therese Mahoney
Secretary/Treasurer of Doral Creek Condominium Association, Ann Arbor, Michigan