Is Your Home in Need of a New Lawn Sprinkler System?
When it comes to keeping your lawn and garden green and fresh, having an efficient watering system is the key. No, not all watering systems or methods are created equal, and when hot or dry weather comes to Ann Arbor MI you want to have water distributed evenly throughout your yard so your grass can keep growing. An effective lawn sprinkler system installed by landscaping professionals is a great investment for your yard and can give you something to be proud of.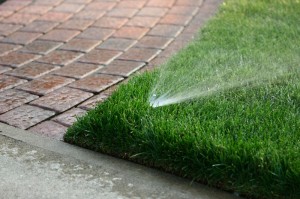 Reasons To Get A Whole Sprinkler System Over A Garden Sprinkler?
Sprinkler systems have a tremendous advantage over just using a garden sprinkler in your yard.
Garden sprinklers need a hose in order to use, and this can be a pain to have to move out of the way when its not in use, plus it can wear out or break. Lawn sprinkler systems don't need a hose and they don't become an obstacle in your yard.
Garden sprinklers have to be moved around all the time to make the water distribution even, and even then it doesn't always get the results you want. Sprinkler systems are designed so that no parts of your yard are neglected, and the water always flows evenly throughout the yard.
Garden sprinklers have to be monitored and manually turned on or off at the outside faucet, whereas sprinkler systems are controlled by an electronic control panel and they can be set to automatically turn on or off at a designated time.
What You Should Know Before Deciding To Go With A Sprinkler System
Having a sprinkler system installed in your yard takes planning and working with your landscaper to make sure no surprises come up while you're running the sprinklers. Ideally you'll want a yard that's pretty level or that has an ideal location for water to drain from. The landscaper may suggest making changes to your yard's level to accommodate your sprinkler system with more space or better flow. You'll also want to have the yard's square area measured and consolidate the water usage for flower beds, gardens, shrubbery and small trees. larger trees may have to be removed if big roots could potentially become a problem with the sprinkler's pipe system.
When Your Sprinkler System Is Being Installed
Usually once diagrams and blueprints for your Ann Arbor MI sprinkler system have been drawn, the landscaper can start installing it. You should make sure that they know about any vehicles or lawn tractors that are used frequently in the yard and make sure the sprinkler lines and heads are not installed in high traffic areas where the vehicles might be used. Usually once the main sprinkler valve is installed and connected to the main water line, all the watering zones become connected to that backbone. A cutoff valve separate from the one inside your home can be installed to manually turn off the sprinklers if the control panel stops working or another emergency arises where you need to shut them off.
Get your yard looking its absolute best with custom landscaping solutions from Twin Oaks. Find us online at https://www.twinoakslandscape.biz/, visit us in Ann Arbor, MI at 4100 South Maple Road, or call us at (734) 213-6911.