March 2, 2016
Soil erosion is not just a menace during warm weather. As temperatures dip, snowstorms can blow away unprotected soil. After spending time and money tilling your garden, the last thing you want is all that to be eroded by harsh winter weather. Soil loss compromises gardens making them susceptible to further damage. To combat these adverse in effects in Ann Arbor MI, you can be proactive by planting grasses. Here are some of the cool season grasses that can help beat winter erosion.
Rye Grass
Professional landscapers recommend rye grass (Lolium multiflorum) for soil stabilization. Rye is an annual grass that is also very hardy. It can be used to spruce up other plants that go dormant during winter. It grows fast and will rapidly and firmly anchor the soil, therefore preserving the integrity of the garden.
Cereal Grains
Cereal grains include annual cereal rye, oats and barley. These are good plants for soil stabilization. You can choose to plant any of them on their own, or plant them alongside legumes and other grains. Cereal rye (Secale cereale) is also known as winter rye. It ranks among the best grains to use as a winter annual cover crop. It is popular because it is able to germinate under lower soil temperatures, unlike most grains and grasses. Cereal rye should be planted in September through to October in northern climates. For southern climates it can be planted in late October.
Ornamental Grasses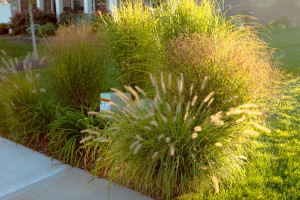 Ornamental grasses are clump-forming grasses that help to hold the soil in place during harsh weather. Their seed heads and foliage have a texture that is useful in preventing erosion. In winter months, these grasses go dormant. However, their strong fibrous root systems work to hold the soil in place preventing harsh winter erosion. They can be planted alongside other crops in your garden. To get the best out of these grasses, go for the native species. These include, blue switch grass ("heavy metal") and northern sea oats. Sea oats are good because they self-seed freely. This provides a natural swath for areas that experience heavy winter erosion.
Ground Covers
Ground covers include grasses and other ground-creeping crops. Ground covers can be planted just before winter. They help to control erosion while at the same time adding nutrients into the soil. A common example is the crimson clover. This cover crop can be planted during fall. Its advantage is that it grows quickly and forms a mat that acts as good soil stabilization crop. The cowpea (vigns unguiculata), is another hardy cover crop. It is grown in areas that experience harsh erosion. These two cover crops are legumes and they also add nitrogen to the soil.
When you decide to get a cover crop, consider other secondary needs such as adding nutrients to the soil or even aesthetics. If you can find a crop that serves other purposes beyond soil erosion, this would be a better choice. Winter erosion prevention in Ann Arbor MI, preserves the integrity of the soil and saves you from having to buy fertilizers to boost the soil's nutrients.
Get your yard looking its absolute best with custom landscaping solutions from Twin Oaks. Find us online at https://www.twinoakslandscape.biz/, visit us in Ann Arbor, MI at 4100 South Maple Road, or call us at (734) 213-6911.
"We recommend Twin Oaks to any entity looking for a full-service, talented, and responsive provider."
Therese Mahoney
Secretary/Treasurer of Doral Creek Condominium Association, Ann Arbor, Michigan