Irrigation Systems for Michigan Lawns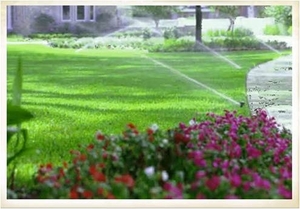 Ann Arbor MI residences and businesses in need of irrigation systems for lawns no longer have to worry. Our full-service landscaping company is available to take on all of their irrigation system needs. Whether you need irrigation maintenance, irrigation installation or anything related to the topic, our reputable business is happy to provide you with the top-notch professional assistance you deserve.
The Value of Irrigation Installation
If you need full irrigation installation, our company can assist you. Not only do we offer irrigation installation service, but we also offer irrigation upkeep. If you need us to take care of your irrigation needs, you can depend on us to design a system that will ensure the thriving of your plants and lawn in general. Our company also offers add-on services for systems that are already in place. If you observe shifts in the conditions of your yard, we can help you with system reconfiguration, as well.
Regular Irrigation System Maintenance
Once you install your irrigation system, you have to prioritize its routine maintenance. If you fail to maintain your system the right way, it simply won't perform perfectly. You can call us to handle your seasonal maintenance requirements. This involves springtime activation, summer assessments and wintertime blowouts, for example. We always go out of our way to make sure that our upkeep sessions are as efficient and smooth as possible. Since the technicians on our staff all have comprehensive training and work backgrounds, they're very skilled at efficient and timely maintenance work.
A+ Equipment, Tools and Machinery
The professionals on our staff not only all have significant experience and training in irrigation installation and maintenance work, but they also all have the finest equipment on their sides. When you call us to handle your irrigation service needs, you can feel comfortable knowing that our technicians only employ the most contemporary and updated tools and machinery around. Our equipment is all state-of-the-art.
Superior Customer Service
If you're looking for a highly regarded Ann Arbor MI company that specializes in irrigation systems for lawns and also provides the best customer service and satisfaction policies in the area, you'll undoubtedly want to work with us. The seasoned pros at our company are all 100 percent devoted to giving our customers amazing results. Their work styles are detail-oriented, diligent, meticulous and comprehensive. We never provide our clients with slapdash or careless work. Not only are our professionals hard workers, but they're also extremely friendly and professional people who aim to please. If you ever have any questions for them about proper irrigation system installation or upkeep, simply ask. They're always delighted to help customers learn more about proper irrigation requirements.
Make an Appointment Today
If you reside in Ann Arbor MI and need trustworthy help with irrigation systems for lawns, call our landscaping business as soon as possible to pencil in an appointment. If you have any questions regarding our irrigation system installation or maintenance techniques, ask and we'll be happy to aid you.
Get your yard looking its absolute best with custom landscaping solutions from Twin Oaks. Find us online at https://www.twinoakslandscape.biz/, visit us in Ann Arbor, MI at 4100 South Maple Road, or call us at (734) 213-6911.