Irrigation Systems for Lawns
Why Have A Professional Install Your Lawn's Irrigation System
The weather in Ann Arbor MI can be brutal to your lawn. From heat to periods without rain, your lawn suffers and during these times will not look its best. The best way to overcome this is by installing an
irrigation system
for your lawn. At first this sounds simple enough, dig some trenches, lay some pipe, hook up the sprinkler heads, cover the trenches and sit back and relax. However, the work is hard, and the design can be complex so the best way is to let our professional installation team do it for you.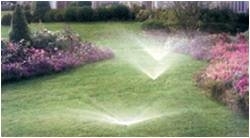 Why Do You Need An Irrigation System?
First though, consider the reasons why irrigation systems for lawns are such an important matter. The grass, plants and trees in your yard need water to survive, but they also need it in a way that allows the individual plants to thrive. Too much water and you waste it and the plants can drown, too little and the plant dies. Plants use water pretty much the same as we human do. It aids in the metabolism of nutrients and the conversion of sunlight and carbon dioxide into fuel for the plant to thrive. So the first factor in determining the best system for your lawn is the water requirements of the type of grass and other landscape material you have in your yard. Our professionals know from their years of experience what these needs are for a wide variety of Ann Arbor landscape plants and grasses.
Design Considerations in Planning Your System
Among the many other considerations, here are a few key things that must be addressed:
1. Sprinkler head placement is another consideration of the design process of irrigation systems for lawns. You want all areas covered of course, but too much overlap of the sprinkler heads is wasteful, costing you money and potentially creating wet boggy areas in your lawn.
2. Setting up the pattern of sprinklers into zones is a critical consideration too. While some yards are small enough to have all sprinklers on the same zone, most are not, and running too many sprinklers on a particular zone reduces the water pressure and that could cause gaps in coverage.
3. The depth of the trenches and their placement is also an important factor. Will the trenches cross or cut into existing utility lines, gas lines and main water or sewer pipes? Are the trenches deep enough to ward against them freezing in the Ann Arbor MI winters?
4. Where is the ideal placement of the manifold (the junction where all the zones come together) in regard to the control panel and the main water line?
5. Speaking of the control panel, will it be located inside a structure like your garage or an outbuilding, or will it be mounted in an exposed area where additional weatherproofing will be required.
6. Is the system going to be fully automated with timers and rain sensors, or completely manual or some combination?
As you can see, there are a number of factors that go into designing and installing irrigation systems for lawns. In Ann Arbor MI there's no one more, or better equipped to do this than our professionals so please call today.
Get your yard looking its absolute best with custom landscaping solutions from Twin Oaks. Find us online at https://www.twinoakslandscape.biz/, visit us in Ann Arbor, MI at 4100 South Maple Road, or call us at (734) 213-6911.