March 20, 2015
Irrigation technology is advancing at the speed of cell phone technology. These advancements are due to the high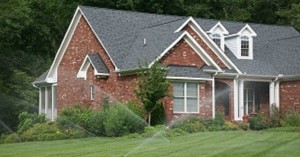 demand for society's focus on water conserving landscapes, which has become quite prevalent in the Ann Arbor area. These technological advances include computer programs to aid in the design of landscapes and irrigation systems, precision of sprinklers and rotors, sensors, new drip/micro products and "smart" controllers. These innovations can significantly reduce the amount of water used on properties to systems that were installed less than 10 years ago.
The goal is to water without waste. It's all about being efficient, getting the proper amount of water to each zone and to each planting with as little waste as possible. This concept first starts with the proper water pressure for the system, making sure the zones are laid out with the proper number of heads to support the pressure. It is critical in the design, install and maintenance of each system to understand the property's topography, microclimates, application rates, turf grass type and the soil composition.
While we service all systems, our preference is that of Hunter Industries, which offers MP Rotators that cycle and soak sampled streams of water at a steady rate. While this product is slower in being applied, it allows water to soak into the soil and achieve an even distribution through-out the area being irrigation as opposed to running several cycles.   Simulating light, effective rainfall with proper scheduling for deep-root watering is the best way to water most plants and grass. The use of MP Rotators with their adjustable edges allow it to conform to any landscape, which can save homeowners an additional 30% of water above typical rotator heads.
General Irrigation Terms….
sprinklers are of two varieties: spray heads – which are used in smaller, fragmented, hard –to-reach areas, and rotors, which use less water are used in larger areas but require more water pressure.
Nozzles come in a variety of systems such as stream spray, strip pattern or short radius
Risers allow the sprinkler's pop-up height to start a 4" and scale to 12
Controllers are the computerized modules that control the system. Generally they also contain ad-on devices that can assist in controlling the amount of water the soil needs (Solar Sync). See below for more information.
Hunter Industries Controller: visit http://www.hunterindustries.com/irrigation-product/controllers/pro-cr
Since 2001, the Pro-C has been the contractor's choice in residential irrigation control. The Pro-C has proven to be the most reliable and robust controller in the industry, with the flexibility to expand on demand due to its modular design. When expansion isn't necessary, the fixed 6 and 12 station models offer affordability in a high-end residential controller.
Now, the Pro-C will easily accommodate Hunter's Solar Sync® without additional wiring. The new Solar Sync dial position makes it easy to upgrade and program any Pro-C to smart control. The Hunter Solar Sync is an EPA WaterSense® labeled smart device which calculates evapotranspiration (ET) and adjusts Hunter controllers daily based on local weather conditions, resulting in water savings and conservation.
The Pro-C and all AC powered Hunter controllers are now EPA WaterSense labeled when paired with the Solar Sync weather sensor.
"We recommend Twin Oaks to any entity looking for a full-service, talented, and responsive provider."
Therese Mahoney
Secretary/Treasurer of Doral Creek Condominium Association, Ann Arbor, Michigan