Keeping Your Irrigation System From Cracking in Colder Temperatures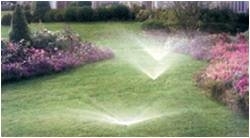 It's important to winterize your irrigation system, it's more important to do it right. Even when people have tried to drain the water out of their system, a certain amount of water can remain. This can freeze and expand. It is able to crack PVC piping. Polyethylene piping is more flexible but will can also expand and rupture during freezing temperatures. It's possible for freezing water to be left in a backflow assembly. This could damage its internal parts and crack the body. The parts of a system must be properly winterized.
Manual Drain
This method can be used in Ann Arbor MI when manual valves are at the end of the lower points of irrigation piping. These systems can be drained by shutting off the water supply to the irrigation system and opening each of the manual drain valves. When the water is out of the main line, it is time to open the boiler drain valve. In some cases, this is the drain cap on the waste and stop valve. The remaining water then needs to be drained. If a system has sprinklers, they need to be pulled up to permit water to drain from the sprinkler body. It's important to make certain all the water is removed from the piping, sprinklers, and backflow. The last step is to carefully close all of the manual drain valves.
Automatic Drain
This is used in Ann Arbor MI when automatic drain valves are at the low end of a system's piping. These are designed to automatically open and drain when water pressure in the piping is less that 10 pounds per square inch (PS). This can be activated by turning off the water supply to the system. This will relieve the system pressure. The water will drain from the mainline. It's then time to open the boiler drain valve. Some may have a drain cap on their waste and stop valve. This will drain the water that is left. In some cases, an irrigation system may have a combination of automatic and manual drains. The mainline could be a manual drain system, and the lateral lines could be an automatic drain system.
Insulate
An important step in preventing winter damage in Ann Arbor MI is to insulate the lawn irrigation backflow preventers and valves. This can be done by using insulation tape or pine straw. This will be especially necessary is they are located above ground.
Controllers
With an outdoor mounted controller, the power should be left on and the switch or dial left in the off position. Transformers will make certain the enclosure has enough heat to prevent condensation from developing. With an indoor mounted controller, the power should be left on. The switch or dial should be put in the off position. Doing this will keep the controller from activating the system's solenoids.
Rain Sensors
These require a very minimal amount of preparation for the cold weather. If the sensor being used has a cup or bowl designed to catch water, then any water in it needs to be removed. A plastic bag should then be placed over the sensor. This will prevent water from building up in the cup or bowl and freezing.
Get your yard looking its absolute best with custom landscaping solutions from Twin Oaks. Find us online at https://www.twinoakslandscape.biz/, visit us in Ann Arbor, MI at 4100 South Maple Road, or call us at (734) 213-6911.