Irrigation Supplies For Homeowners
Irrigating your lawn, flower bed or other plants in your landscape is essential to maintaining a pleasant and vibrant home environment. Plants that are not well-watered tend to dry up and leave your compound looking gloomy.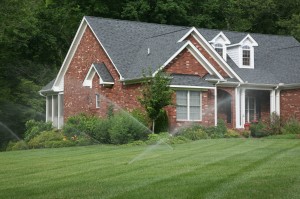 Choosing the right irrigation method for your landscape can be a daunting task if you do not have the proper knowledge on home irrigation systems and methods. However, if you irrigate your plants correctly, it will leave your landscape looking wonderful.
The first step to getting started on home irrigation is finding out what type of irrigation system you need. Draw a sketch or a plan of your landscape and deliver it to a reliable landscaping company in Ann Arbor MI. A good company will design a suitable irrigation system according to the size and shape of the landscape and the distribution of different types of vegetation in the landscape.
Irrigation Equipment
The next step is purchasing the right equipment for home irrigation. Some of the irrigation supplies used for home irrigation in Ann Arbor, MI include:
• Automatic sprinkler controllers and timers
• Sprinkler valves
• Spray heads and nozzles
• Rotor Sprinklers
• Impact Sprinklers
• Drip irrigation equipment
• Hose end sprinklers and kits
• Irrigation tools and accessories, such as sprinkler wrenches and filtered drain valves
• Repair kits and spare parts.
Your landscaper will help you to choose the most suitable irrigation system for you. Sprinkler irrigation is usually preferred for lawns and other areas that need high amounts of moisture to flourish. Drip irrigation is preferred for flower beds and other non-grass areas. You might be advised to use a combined irrigation system if you have both lawns and flower beds in your compound.
You may choose to install your home irrigation system personally or hire a professional team to do it for you. If you choose to do it yourself, ensure that you have acquired an irrigation system design from a professional to ensure that there is minimal wastage of water and that all sections are irrigated evenly. Applying the right method will help you avoid problems, such as water pools and soggy areas, in your compound.
Benefits of Home Irrigation
• It helps you maintain a healthy and appealing landscape for you, your friends and family to enjoy.
• An effective irrigation system will help you to conserve water and save you money that would have been used to pay water bills.
• A good irrigation system ensures that your landscape gets the required amount of water and that there is no under-watering or over-watering of some sections.
• Automatic irrigation systems save time. Timers and controllers are used to turn on the sprinklers at the appointed time and turn them off when irrigation is finished.
If you are considering the purchase a home irrigation system, contact your landscaper in Ann Arbor MI for advice on the best irrigation supplies on the market and a suitable irrigation system to apply to your landscape. With the help of a little good advice, your lawns and flower beds can thrive throughout the year.
Get your yard looking its absolute best with custom landscaping solutions from Twin Oaks. Find us online at https://www.twinoakslandscape.biz/, visit us in Ann Arbor, MI at 4100 South Maple Road, or call us at (734) 213-6911.