September 22, 2014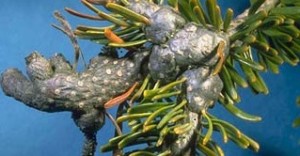 The Michigan Department of Agriculture and Rural Development has actually issued a quarantine for the invasive Balsam Wooley Adeligid (BWA) (an insect of the family Adelgidae, which comprises sap-feeding hemipteran insects resembling aphids).  The State hopes this will help protect millions of Fir Trees.   This insect attacks true fir trees repeatedly by gouting out the twigs, killing the branches and eventually killing the tree.  This quarantine will prohibit the shipping of fir nursery stock and timbers in to Michigan from those states with the infestation.  If the BWA were to become established in Michigan, it could cause severe losses across multiple industries, including timber products, Christmas trees, nursery stock and even tourism (such as Tahquemenon Falls or Pictured Rocks which are lined with fir trees).
These pests are tiny in size, adults are less than 1/32nd of an inch and are black-purple in color.  The create a waxy wooly substance that covers the branches.   The State has indicated that they don't currently believe we have this pest in Michigan, the are easily introduced in many ways (such as products from other states including nursery stock, firewood, logs, and even animals and birds).  Though, once it is here, it would be very hard to detect and get rid of.  Many other states have seen massive losses of their native fir trees, and the State hopes this quarantine will help prevent loss here in Michigan.
Where and when did these pests originate?   According to the US Department of Agriculture Forest Services, the BWA was accidentally introduced into Maine in 1908 from Europe.  It currently infests first in Southern Canada, the Pacific Northwest and the Northeastern states.   In fact, the Great Smokey Mountains National Park reported that 95% of the Fraser Fir has been killed by the BWA.
"We recommend Twin Oaks to any entity looking for a full-service, talented, and responsive provider."
Therese Mahoney
Secretary/Treasurer of Doral Creek Condominium Association, Ann Arbor, Michigan