May 31, 2016
Perhaps you've considered placing your Ann Arbor MI home on the market recently? Today, some local property owners enhance the marketability of their real estate using attractive outdoor lighting. Outdoor lighting performs a valuable role in many marketing plans these days.
L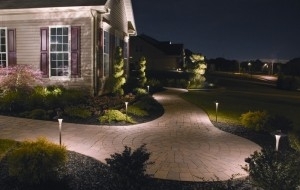 ights Attract Attention
First, consider the virtues of adding additional lighting around the exterior of your home. This feature frequently enhances the value that a property provides to residents:
Exterior lighting facilitates outdoor entertainment plans;
Lighting prevents slips and falls on the grounds at night;
Extra illumination may deter some crime;
Outdoor lighting enables realtors to show properties more effectively at any hour of the day or night;
Lighting emphasizes attractive property features, such as patios, gazebos, statues, and entrances.
By increasing the utility of the yard to residents at night, well-situated exterior lights often contributes to the satisfaction that residents feel with the home. For this reason, a homeowner may want to consider asking a qualified landscaping company to install outdoor lighting before placing the home on the real estate market.
An Evening Open House
One useful way to market real estate involves conducting an "open house". A real estate agent remains on the premises for several hours, greeting visitors and showing them around the property.
Lovely exterior lighting installed by a professional landscaping company typically will contribute to the enjoyment that residents obtain from residential real estate in Ann Arbor MI. A lighting system on the property often expands the available real estate marketing options. For instance, you might consider asking your real estate agent to conduct an evening open house.
Just consider a few of the advantages this sales tool offers:
Many people cannot spend time viewing real estate during daytime hours;
When your home shows well in the evening, visitors will appreciate its utility for entertaining;
Interested prospects can tour the premises again during the day;
Well placed lights will highlight the best features of the yard.
Conducting an evening open house may not appeal to every buyer, but the chances remain very good that this sales strategy will interest some potential purchasers who might otherwise not spend time looking at the property. You'll typically increase the number of interested prospects by conducting at least one open house during evening hours.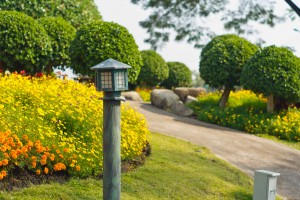 Long Term Benefits
Carefully placed exterior lights furnish some definite advantages for real estate owners. Light permit residents to see more clearly when they return to a home after dusk. During summer, this feature significantly expands the entertaining options available to homeowners in Ann Arbor MI. Happy family barbecues, reunions, pool parties, graduation parties and neighborhood gatherings usually benefit from carefully illuminated residential exteriors.
If you've placed property on the market and experienced difficulty distinguishing your home from surrounding properties, you might want to consider asking a local landscaper to install lights around the exterior of the residence. This strategy could improve marketability!
"We recommend Twin Oaks to any entity looking for a full-service, talented, and responsive provider."
Therese Mahoney
Secretary/Treasurer of Doral Creek Condominium Association, Ann Arbor, Michigan