February 9, 2015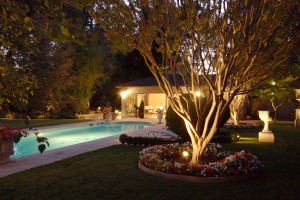 One of the best ways to make your Ann Arbor Michigan home more attractive and increase its curb appeal is to make strategic use of outdoor lighting. The lighting of your yard and other areas surrounding your home has a major impact on the way your home looks at night. Let's look at some ways to make the best use of lighting outside your home.
Front Door Lighting
The front door is probably the single most important area outside your home that requires good lighting. This area must be well lit for people who live in your house as well as for guests. It also serves as security, discouraging intruders. One way to have a balanced kind of lighting outside your front door is to have two lanterns or fixtures on each side of the door rather than one very bright one. You can make these lanterns more pleasing by having them colored or frosted. Whatever types of lighting fixtures you use, they should be the appropriate size relative to your home and front door.
Driveway Lighting
Your driveway and garage is another area that requires the right type of outdoor lighting. This helps you or guests stay safe when driving into your driveway at night. Driveway lighting also enhances your home's security. Like your front door lighting, however, you don't want the lighting to be too harsh or to create glare. If you have trees around your driveway, you might mount lights in the branches. People driving in will have their headlights on, so they will be able to see directly in front of them. The most crucial purpose that driveway lighting serves is to illuminate the edges of the driveway. You may want to use motion sensor lights that only come on when someone approaches.
Landscape Lighting
If you have a garden or any type of landscaping in your Ann Arbor Michigan home, you should make the most of it with the right kind of lighting. This can allow people to appreciate your efforts even when it's dark out. It's best to use this type of lighting selectively, highlighting certain features that are especially impressive. This works better than having the entire yard brightly lit. You could, for example, have floodlights placed on a fence, tree, or pole to illuminate a garden or other landscaping feature.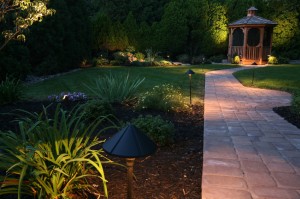 Lighting For Safety
Certain areas, such as stairways and walkways, require lighting for the safety of people entering or leaving your home. If, for example, there are steps leading up to your front door, they must be well lit at night. This type of lighting can be used for curb appeal as well as safety. You have several choices for lighting walkways and stairs. You could have light fixtures on the ground, which can also create an aesthetically pleasing effect. If you prefer, however, overhead lighting can also work well if it's not to harsh.
These are some of the main considerations to keep in mind when planning outdoor lighting for your Ann Arbor Michigan home. You must consider your personal tastes and budget and balance these with practical concerns. The right kind of lighting can provide your home with a great deal of curb appeal as well as safety and security.
Keep your lawn looking beautiful with maintenance services from Twin Oaks Landscape.
Find us online at https://www.twinoakslandscape.biz/, visit us in Ann Arbor, MI at 4100 South Maple Road, or call us at (734) 213-6911.
"We recommend Twin Oaks to any entity looking for a full-service, talented, and responsive provider."
Therese Mahoney
Secretary/Treasurer of Doral Creek Condominium Association, Ann Arbor, Michigan