April 13, 2015
If you live in Ann Arbor MI, then you're familiar with the sense of increasing anticipation as the end of winter draws near.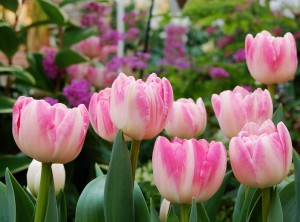 It's its own special place, especially in the spring. We know you can't wait to begin gardening again. However, the least pleasant part of the growing season is the inevitable repairs and seasonal cleanup that needs to be done immediately after the snow begins to recede. This is where we come in, helping to return your garden to a state of order, in which you can being nurturing and growing beautiful, healthy plants as soon as possible.
The Garden To-Do List
Long months of snow and cold have left their mark on your precious domain. Lawns are subdued. Plantings and shrubs are still tucked away under protective coverings or left as a tangled mat of dormant and dead foliage. Thick mulch has done its job, but may have shifted or compressed over the season. Now is the time to check on the well-being of young trees, perennial plantings, and landscaped shrubbery. It's also the time to complete a host of early spring tasks that are labor intensive. The include:
• Lawn fertilization and aeration
• Removing insulating wrappings from young trees
• Feeding saplings and checking their overall condition
• Pruning back winter-dead growth from landscaping
• Refreshing mulching and landscape ground covers
• Checking for weed development before it gets a firm foothold
• Feeding perennial plants and checking their condition
• Raking back winter leaf litter
• Soil amendments
• General tidying and upkeep.
These tasks and many other seasonal needs particular to your property may be discouraging you from thinking ahead to the time when you'll plant new annuals, care for your healthy lawn, or begin to plan which vegetables to include in your plot. Gardening should be a joy, especially in Ann Arbor MI, a region that receives ample rainfall and is home to some of the most beautiful indigenous species and hardy plants from other areas of the country.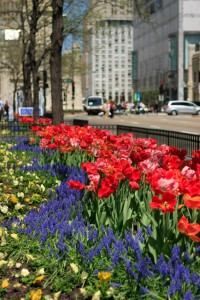 Let Us Do the Footwork
When it comes to seasonal cleanup, our team is both dedicated and experienced. We bring enthusiasm to our tasks, knowing that once we've done our work, you'll be ready to make magic happen. It's our way of encouraging positive growth in the community, pride in property, and the general well-being that results from individuals getting out and working in their gardens. We are here to help clear winter's detritus away and set the stage for the plans you made over the winter.
So contact us to help you clear out the old and make room for the new. Spring is just around the corner, and getting a jump on fertilizing, aerating, raking, and pruning means your property will be ready for the first warm days of spring. We have confidence in your vision, and want to help it bloom, grow, creep, burgeon, and put out new leaves. As a local landscaping company, we're a part of the community, too. Contact us today to make your appointment.
Construct the perfect patio, walkway, or porch with custom hardscaping services from Twin Oaks Landscape.
Find us online at https://www.twinoakslandscape.biz/, visit us in Ann Arbor, MI at 4100 South Maple Road, or call us at (734) 213-6911.
"We recommend Twin Oaks to any entity looking for a full-service, talented, and responsive provider."
Therese Mahoney
Secretary/Treasurer of Doral Creek Condominium Association, Ann Arbor, Michigan