How To Increase Curb Appeal Through Front Yard Landscaping in Ann Arbor
Ann Arbor is an eclectic city of 115,000 residents 45 minutes west of Detroit. It is a leader in the arts with its many galleries and art shops and also education as it's the home of the University of Michigan. Ann Arbor derives its name from the wide variety of trees in the region. Trees are a big part of landscaping in a home; the front yard serves as the face of a property as it's the first thing people see. Therefore a nice front yard is truly a work of art, increasing the beauty quotient of the already beautiful city of Ann Arbor!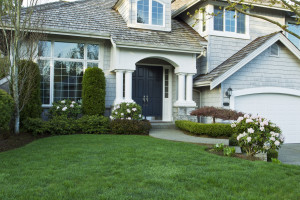 Effective front yard landscaping can be achieved through the planting of flowers, a very simple, practical idea. Using flowers that are conducive to a specific season as well as bright, cheerful colors will make the environment much more welcoming in that flowers make excellent conversation pieces.
Another way to do great front yard landscaping Ann Arbor is to attract birds and other friends. This can be achieved by placing bird feeders around the front yard. Brightly-colored bird feeders will not just add charm to the front yard but birds such as cardinals, blue jays, and others will create a place that's in tune with nature. Flowers such as sunflowers, daisies, and others will also attract butterflies and bees which will pollinate the front yard, fostering foliage growth.
One can entertain guests in the front yard. A creative way to enhance front yard landscaping is by the placement of a small bench or outdoor furniture such as a table with some chairs; light colors such as beige and peach blend well with the foliage. Furthermore planting a small hedge will create a sense of closeness and intimacy in a front yard and a needed contrast from the surrounding flowers.
Front yard landscaping Ann Arbor can be made beautiful year round by planting green foliage. Small shrubs, ground covers, even creating a vine that goes around a wall or a window of the house will create personality in what may have been a dull place. A good rule of thumb is to choose evergreens that grow at the pace that's needed and fill up the desired spaces to ensure that the front yard looks beautiful through the seasons of the year.
Even a small yard can be made to look attractive by using a variety of plants; these will not just create a barrier from any outside noises but will also give an illusion of a larger front yard. This is achieved by showing a variety of coordinating colors, making the foliage easy on the eyes. The smaller the plant or flower, the more enhanced the illusion of space will be.
The key in front yard landscaping lies in the details; little things will enable front yard landscaping Ann Arbor to be a success and make the front yard not just an inviting place to spend time but also increase the value and appeal of any home.
Get your yard looking its absolute best with custom landscaping solutions from Twin Oaks. Find us online at https://www.twinoakslandscape.biz/, visit us in Ann Arbor, MI at 4100 South Maple Road, or call us at (734) 213-6911.