October 1, 2014
After this long and harsh winter, we are all looking forward to the warmer weather and looking forward to seeing fresh spring growth on our plants.
Even though we are longing for spring, winter can be beautiful too!  If you dread the long winters because of the bare trees and unappealing landscaping, consider having a design that changes that at your home.
Look at this beautiful and interesting garden in winter!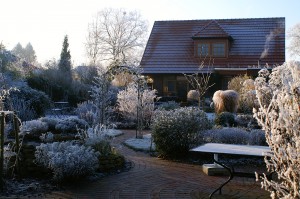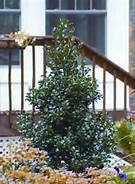 Using evergreen plants and those with distinct form and branching can help make winter around your home more interesting.  There are hundreds of available evergreens that come in colors of green, yellow, blue, rust, purple, and variegated with white or yellow.  Some of the most beautiful gardens contain mostly evergreen plants, and are interesting year round.
There are also some herbaceous plants that will even bloom when there is snow still on the ground.  A couple of these are Crocus and Snowdrops.  Other herbaceous plants have semi-evergreen foliage that lasts long into the winter.  A few of these are Hellebores, Thyme and Candytuft.
Some shrubs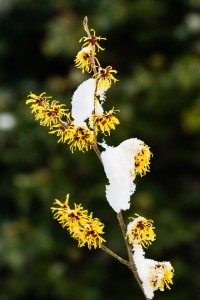 have colored or decorative bark that gives contrast in the winter, such as red-twigged dogwoods.  Others notable plants with interesting bark are river birch, white birch, paperbark cherry, paperbark maple, and 'Sango kaku' Japanese maple. Also consider planting early blooming shrubs that provide interest during late winter.  One of my favorites are Witchhazel's, which are long blooming and are a beautiful sign that spring is coming! Most people are more familiar with Forsythia which blooms a bit later than Witchhazel, but is far more common.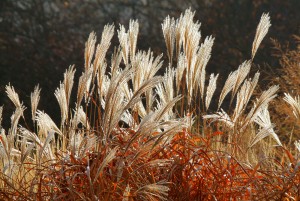 There are also several perennials that can be left standing through the winter to provide more interest with their seed heads, and provide food for wildlife! Some of these are Sedum, Echinacea, Calamagrostis grass, Miscanthus grass, and Black eyed susan.
Finally, an important addition to include for your year round landscape that really benefits a home in winter is to add landscape lighting.  Because of our short days, lighting is much more useful during the winter, and can provide a lot of interest when it is needed the most.  A great way to do this is to project the shadows of a tree onto the house.  This is a beautiful way to accentuate the branching of a bare tree.  Also adding path lighting provides safety measures as well as aesthetics.
So, if you are dreading this time of year, consider updating your landscape this spring to include more evergreens, plants with winter interest or lighting so that you can enjoy your home more next winter! We will work with your existing landscape to determine the best way to add interest to your home.
"We recommend Twin Oaks to any entity looking for a full-service, talented, and responsive provider."
Therese Mahoney
Secretary/Treasurer of Doral Creek Condominium Association, Ann Arbor, Michigan