July 7, 2016
Rejuvenating a lawn is different from seasonal lawn maintenance. Lawns that need rejuvenating may show such signs as:
• Thin grass
• Yellowing grass despite regular irrigation
• Bare spots
• Evidence of insect or rodent infestation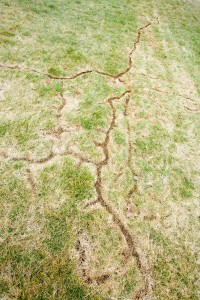 A sick lawn needs the attention of an expert landscaper. If the list above describes your Ann Arbor MI lawn, we can help.
Activities like children playing on your lawn or mowing with your mower blade set too low can damage your lawn. Mowing too early in the year weakens new grass. It's never too late to consider lawn rejuvenation. We employ different methods depending on the cause of your lawn's poor growth.
• Thatching involves going over your lawn with machinery designed to remove dead grass and leaf buildup from your lawn's surface. Thatch chokes your young grass and will eventually kill it if not removed. Depending on the size of your yard and the extent of damage, we can also perform thatching with hand tools. Thatching is often needed at the end of winter to remove dead leaves before new grass emerges. If you've lived in the Ann Arbor MI area long, you're familiar with the damage your lawn incurs after a winter of heavy storms. Thatching cleans out storm detritus. Thatching is a must if you've bought a home with a poorly maintained lawn.
• Reseeding should be done after thatching. We spread grass seed into your existing grass to make your lawn thicker and fill in bare patches. Seeding a lawn that already has some grass helps protect the seed from birds. When the grass in parts of your yard has been trod down by heavy foot traffic, you need intensive lawn rejuvenation. If your lawn has beaten-down bare paths where your children regularly play, the best and quickest solution is to install a resilient variety of sod.
• Resodding part or all of a yard requires digging at least three inches into the damaged sod to reach healthy dirt. Healthy dirt is aerated. We'll explain the process of aerating an entire lawn. Grass dies in hard-packed dirt because no air can reach the roots, so sod has to be placed over loose dirt. We have many varieties of grass that will match nearly any lawn. Our sod is guaranteed to be weed free and pest free. We'll advise you about irrigating and mowing your new sod.
• Aerating is a simple way to help rejuvenate your lawn and the most common lawn rejuvenation procedure after thatching. Aeration is best for lawns that are just starting to show signs of unhealthy grass. We'll go over your lawn making regularly spaced small holes to promote absorption of air, fertilizer and moisture. Anthills or holes in your lawns are signs that you need help from a landscaper. Rodents and insects can kill your grass, and red ants or yellow jackets are dangerous to your family and pets.
If your Ann Arbor MI lawn is no longer lush and vibrant, contact us. We'll bring your lawn back to life.
"We recommend Twin Oaks to any entity looking for a full-service, talented, and responsive provider."
Therese Mahoney
Secretary/Treasurer of Doral Creek Condominium Association, Ann Arbor, Michigan