June 22, 2015
One major key factor has emerged with in the hardscape market that gives landscape companies the ability to compete better and also differentiate themselves. That is the ever increasing complexity of products, designs and methodology. This complexity helps companies create unique solutions for their clients, based on creativity and craftsmanship. IT was not that long ago that a client could call five contractors and get five slimier designs. That is not he the case any longer. With so many choices, it is likely that clients can get several different solutions for the same property. This makes that hardscape market and excited place to compete. It can be frustrating at times, because there are always commodity contractors who will sell strictly on price. But more people than ever are making their selection not on price, but on other factors such as quality of design or reputation. Some research from local Michigan manufacturers of paver materials show that only 25% of people select the lowest price. This means that although price may factor in to the equation, there are more ways to compete these days.
In order to compete, a contractor needs to know the choices available and offering the right options. This means learning the newest products and design ideas. It also means understanding the using the best and most efficient installation techniques. Now is the time to make sure you understand how the hardscape industry looks today. Let's start with the products themselves…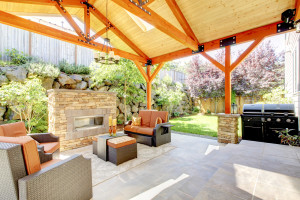 Hardscape Products:
What is available and who is willing to offer different products. Like any industry, hardscape has seen many innovations and new technology resulting in products with unique textures and finishes. In addition, these products perform better over time. Increased selection helps contractors create unique projects as well.
Hardscape Design:
The design process has actually becomes incredibly complex over the last few years, offering more variety and unique builds that support creation of individual outdoor living spaces. Such new concepts include:
Vertical Building – generally focused around columns, seat walls, fire pits and fireplaces, etc. and add dimension and function to the hardscape environment.
Large Format Pavers – the average size patio has increased over the years. Small pavers work great for a patio averaging 300 sq ft, though, when the same design is used for a 600 sq ft area, it can actually create a "busy" look that may be unfavorable. Recently, large pavers have increased in these larger spaces that add a better style and look. In addition, these larger pavers can actually be installed quicker than smaller ones.
Design Style – Contemporary and Modern Styles have been added to the design menu, allowing for a greater appeal to individuals that express such within their home environment. Whereas in the past, pavers were generally considered a more rugged, country style, they are being created for more versatile styles.
Almost every client we speak with speaks about quality. Many of them have seen or experienced paver systems that have failed. The problem lies in that not all contractors use the appropriate measures for the sub-base and base of paver materials, as well as the appropriate aggregate products to support pavers successfully, especially within our Michigan climate range.
"We recommend Twin Oaks to any entity looking for a full-service, talented, and responsive provider."
Therese Mahoney
Secretary/Treasurer of Doral Creek Condominium Association, Ann Arbor, Michigan