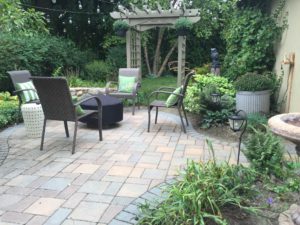 Technically, hardscapes are just about anything in the yard that's not alive. These are the wood, concrete, and masonry additions that complement the flowers and other organic parts of the yard. They all have an aesthetic purpose, but not all necessarily include a functional side too. Given that even modest hardscapes require a financial investment, it would be twice as nice if they offered both these features. With that in mind, here's a list of hardscape ideas most likely to be functional and beautiful while being well-suited to the Ann Arbor MI region.
Walkways
Patios
Outdoor Rooms
Retaining Walls
Walkways
These stand out as one of the basic and useful hardscapes anyone can place in their yard. The choice of materials used for construction is extensive with such things as brick, stone, concrete, or wood. Some people have even built permanent paths using glass bottles of various colors inserted upside down in the ground to form a mosaic. The functionality of these structures comes from providing a safe surface that gives observers access to assorted garden highlights without the risk of slipping on wet grass or caking shoes in dirt and mud. They also give the lawn a break from having erosion-prone paths worn into it.
Patios
Patios allow people an opportunity to spend time outdoors with each other or simply enjoying the spectacle of nature in the backyard. At a minimum, these structures offer the same advantages provided by walkways. These are also the logical locations for the ubiquitous outdoor grill. They can take more elaborate forms if the homeowner is willing to put more money into the project. Some include built-in extras like benches, fireplaces, railings, and cooking centers.
Outdoor Rooms
This category is not always easily distinguished from patios, but it usually includes free-standing structures like gazebos or bowers that are typically covered. The overhead protection might be limited to supplying shade or it might extend to providing shelter from rain, wind, and other harsh elements. Topped with a strong enough barrier, some owners have turned these structures into secondary rooms normally found indoors. Refrigerators and entertainment centers are among the more extreme additions to these peculiar sanctuaries.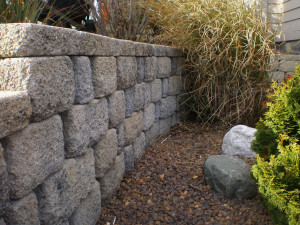 Retaining Walls
The rolling landscape around the Ann Arbor MI area makes retaining walls very practical in many yards. They provide a means for creating level surfaces on a hillside while guarding against erosion. They also have the additional benefits of acting as windbreaks as well as serving as a thermal mass. In this last capacity, they guard against late freezes that can harm early blooming flowers or fruiting plants while warding off early frost that can shorten the season for fruits and vegetables. These latter two qualities also apply to non-retaining masonry garden walls. These pieces of garden architecture also offer support for flowering vines, grape vines, or espalier fruit trees, so there's no reason for any yard to do without such a highly functional structure.