Grass Care for the Perfect Ann Arbor Lawn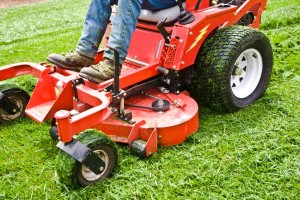 Spring will soon be sprung and is your yard ready? Grass care in Ann Arbor weather can be easy if you follow some time tested tips. Each season has its own requirements when dealing with grass care, so let's start with spring.
After the cold Michigan snow melts, the soil may be compacted and need aeration. Springtime in Ann Arbor is a good time to aerate the soil to ensure successful grass care. Aeration provides circulation into the soil to allow air, water and nutrients through to the grass roots. You can rent an aerator at the Home Depot or local hardware store. The best method is to push the aerator in the same back and forth motion as a lawn mower, and only double up in areas where you think your soil needs a lot of aeration.
Spring grass care in Ann Arbor will include weed killing. Spread weed killer on plants like crabgrass so you can terminate them early before the warm months. Usually weeds grow in the same area of a yard each year, so monitor those areas of the yard early to avoid more work later in the summer months.
When your grass starts to grow a few inches, it is time to break out the lawn mower. After your first mow, spread a light sprinkling of fertilizer. In Ann Arbor, the grass care season dies during winter and the yard is usually covered with snow, the extra nutrients in the fertilizer will revive the recovering winter grass.
Summer Grass Care Ann Arbor
The summer is when we relish in the warm weather, but it is also when all the pests attack the lawn. You will most likely need to keep an eye on weeds and pests during this time. The best time to prepare for pests is late May. You can get pesticide at the hardware store to deal with common Midwest pests like grubs or beetles.
Watering is the main focus in the summertime. You need to figure out how much water your particular lawn needs and adjust your watering levels. Finding the perfect balance will save you money on your water bill and make your yard beautiful.
Autumn Grass Care Ann Arbor
When autumn arrives, it may be time to watch Wolverine football, but keep cutting the grass until it stops growing! If you desire better grass for the next spring, this is a good time to sow your yard with new seed for the next season. Seed early before any frost arrives. Unfortunately, this time is also when all the leaves fall. If you want a healthy lawn for spring, it is best to rake up your leaves now.
Winter Grass Care Ann Arbor
During the winter, shovel the snow off the driveway! Enjoy some hot chocolate by the fireplace, spring is just around the corner, and you will be back to working on your perfect plan in no time!
Get your yard looking its absolute best with custom landscaping solutions from Twin Oaks. Find us online at https://www.twinoakslandscape.biz/, visit us in Ann Arbor, MI at 4100 South Maple Road, or call us at (734) 213-6911.