May 11, 2015
If you live in Ann Arbor MI and are looking for ways to increase your lawn's level of irrigation without using excess water, there are some simple things you can do. Plus your local landscaping professionals can show the methods that are best suited for your lawn. These can keep your lawn beautiful while reducing the amount of water you use while helping protect the planet's precious water supply. With a little help from a professional you can have a beautiful lawn without spending lots of money on your water bills.
Early Morning Watering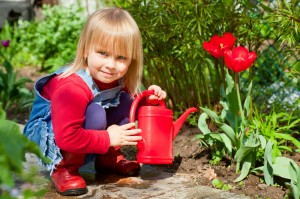 One simple way to reduce the amount of water you use on your lawn is to water it early in the morning. When you water your lawn before it gets hot, more water is able to get into the soil, nourish your lawn, and help it to flourish. If you wait until the day heats up to water your lawn, more of the water will be lost to evaporation and you will have to use additional water to keep it green and healthy.
Water by Hand
Hand watering can use a much as 33% less water than automatic watering systems. Watering the lawn by hand allows you to control when and how much you water your lawn. You will know not to water in rainy weather or when the water isn't soaking into the soil. You will also be able to see which areas of the lawn need less water than others.
Raise Your Lawn Mower Cutting Height
When the landscapers come to cut your lawn, tell them to raise the cutting height. The longer the blades of grass in your lawn are the more shade they will provide for each other and for the soil. This will help to reduce evaporation and you will not have to use nearly as much water to keep your lawn healthy and green. Plus this will also inhibit the growth of weeds. So you will end up using less water but will have a better looking lawn.
Reduce Lawn Size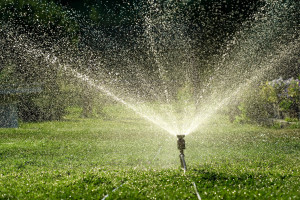 How much turf you have in your landscape impacts the amount of water you need to keep it healthy. Lawns require more water than plants, shrubs, and bushes. Consider using grass only to highlight certain areas of your yard. This will make irrigation easier and less expensive. Plus you can use low water grasses which use 2/3 less water to save even more money.
Make Every Drop Count
For the average single-family home in suburban Ann Arbor MI, about 30% of the water used is for watering lawns. Even more revealing is half of that is wasted due to evaporation, and overwatering experts say. Some ways to make sure your irrigation more efficient include:
Paying attention while watering the lawn to prevent overwatering.
Using a hose that has an automatic shut-off nozzle.
Watering your lawn and your plants separately.
If using sprinklers make sure they're not watering pavement.
Stop watering and let the soil soak in the water if you see puddles.
Get your yard looking its absolute best with custom landscaping solutions from Twin Oaks. Find us online at https://www.twinoakslandscape.biz/, visit us in Ann Arbor, MI at 4100 South Maple Road, or call us at (734) 213-6911.
"We recommend Twin Oaks to any entity looking for a full-service, talented, and responsive provider."
Therese Mahoney
Secretary/Treasurer of Doral Creek Condominium Association, Ann Arbor, Michigan