July 11, 2015
The summer season is the perfect time to focus on the health of your home's landscape in Ann Arbor MI. It is important to make the environment surrounding your home look and feel as beautiful as possible.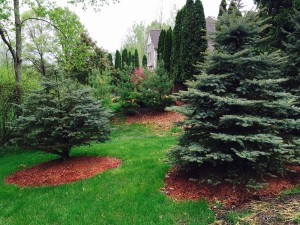 One way to keep the landscape of your home looking beautiful is to keep your trees healthy. Since trees are living things, they need as much care and attention as humans in order to maximize growth. Green leaves, strong trunks and nutrient-rich roots are signs of healthy trees. There are five easy ways to ensure the trees in your yard remain healthy and strong.
1. Carefully stake trees only when necessary. Many homeowners stake the trees in their yards as a way to promote root and trunk growth. Although this may procedure may be beneficial, too much or improper staking can cause harm to the tree. Staking becomes problematic when it hinders a tree's resources from enabling it to grow wide and strong. If you are unsure about how to properly stake a tree, call reputable tree services to help.
2. Mulch your tree regularly. The purpose of using tree mulch is to protect soil moisture levels, structure, oxygen and temperatures. It is important for you to remember to mulch your tree through all of its stages. Older trees need just as much attention and care as older trees.
3. Protect your tree's critical root zones. The areas that lie below the trunk of your tree that span the ground are known as critical root zones. Be careful not to sever the roots or cause undue pressure on this area.
4. Use fertilizer on your tree during all of the seasons. During the first year of a tree's life, it should be fertilized heavily in early spring and summer. In the fall and summer, light fertilizer should be used on the tree. Older trees require only light amounts of fertilizer during the year.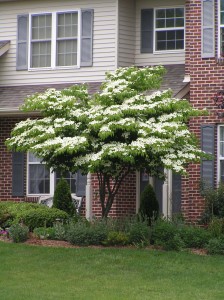 5. Prune your tree routinely. The purpose of tree pruning is to provide space for the healthy branches to grow. It is important to remove branches that are spread too closely on the tree trunk. Pruning a tree helps it to grow tall and stay active. Proper pruning techniques help to reduce breakage and damage. Furthemore, pruning strengthens your tree.
There are tangible benefits of maintaining healthy trees that may surprise you.
Trees can add up to 20% to the value of property.
Trees make a neighborhood more attactive.
Trees provide much-need shade during summer months. The shade reduces utility costs.
Trees reduce the amount of water that gets on homes and streets.
Trees have the ability to absorb sound and reduce noise heard in the home.
Neighborhoods with many trees have reduced crime rates.
Trees foster social activities and bring neighbors together.
For assistance with maintaining your trees, call us. We are one of the most reputable tree services in Ann Arbor MI.
Keep your lawn looking beautiful with maintenance services from Twin Oaks Landscape. Find us online at https://www.twinoakslandscape.biz/, visit us in Ann Arbor, MI at 4100 South Maple Road, or call us at (734) 213-6911.
"We recommend Twin Oaks to any entity looking for a full-service, talented, and responsive provider."
Therese Mahoney
Secretary/Treasurer of Doral Creek Condominium Association, Ann Arbor, Michigan