Five Simple Tips for Mowing Your Lawn at the End of the Season
Before the cold weather rolls in, you'll want to give your Ann Arbor MI lawn a few last good mows. Here are five tips to help you do the best lawn mowing job possible before the season comes to an end.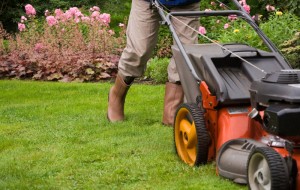 1. Don't cut the grass too short, which is known as "scalping" in the Ann Arbor MI lawn mowing world. Cutting the grass shorter than necessary can cause it to have ugly brown patches where there's uneven ground or root systems. Weeds can then break through the grass, causing even more of a landscaping problem. During the warmer weeks, your grass should be between one and three inches high; during the colder seasons, it should be between two and a half and three and a half inches. You should never cut your grass higher than four inches.
2. Did you know you can give your grass a cowlick if you always mow it in the same direction? Grass will lean in whatever direction you most often mow it. It's a good idea to change your pattern every week to encourage the grass to grow healthier and straighter. Also, if you want to mow in a straighter line, don't look down at the wheels. Instead, focus on something that's ten feet ahead of you.
3. Don't rush through cutting the grass. The faster you are, the less groomed your lawn will be. When cutting wet or tall grass, go even slower. If you rush through the job, even on dry grass, the grass will be uneven and you'll leave behind clumpy clippings of mulch.
4. Make sure that your mower stays clean. A dirty mower can spread fungus, diseases and weed seeds, all things that will contaminate a lawn. If you only use your mower on your own lawn, you can clean it less often than if you use it on a variety of lawns. If you have a professional mow your lawn, ask them how often they hose off the blade and undercarriage. Ideally, they should do it before mowing your lawn, every time.
5. Always recycle your clippings. Grass clippings should usually be recycled back into the lawn. This is called "mulching" and it's a great way to restore the lawn's nutrients. The mower you choose should have a mulching blade, which will cut the grass in a way that it will be more biodegradable. After you're done mowing, if there are a lot of heavy clumps, spread them around with a rake. Or, if the clumps are too big and won't biodegrade properly, you can put them into a compost pile. During the fall, once there are a lot of leaves on the lawn, you may want to bag them before mowing.
If you've ever been to a professional ball park, you know that lawn mowing is an art. There's no reason why your yard can't look just as great and maintained.
Get your yard looking its absolute best with custom landscaping solutions from Twin Oaks. Find us online at https://www.twinoakslandscape.biz/, visit us in Ann Arbor, MI at 4100 South Maple Road, or call us at (734) 213-6911.