May 15, 2015
One of the smartest choices you can make in your exterior design is to use natural stone for your hardscaping. There are many benefits to natural types of stone that make it superior to the other commonly used hardscaping materials. If you are thinking about using natural stone in your Ann Arbor MI hardscape, here are five of the best reasons that will make it worth your while.
1. The Huge Variety of Stones Available
One of the best reasons to use stone for your hardscape is that it gives you such tremendous flexibility in look. There are so many different types of stones available. River rock is a popular choice for many designers. Slate and limestone are also popular choices. Grey quarry stone is another beautiful stone choice. Some designers like to use landscape boulders to add interest to their hardscaping efforts.
2. Variety of Uses and Looks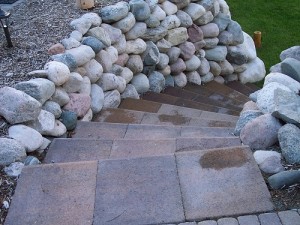 As well as the wide variety of different types of stone available, there is also a huge variety when it comes to their sizes, shapes and colors. This uniqueness of the stones makes them incredibly useful for adding variety to your exterior. There is no limit but your imagination when you are using stones of natural materials. Many designers love to use them in pathways through their gardens and yards. They also make a wonderful choice for Ann Arbor MI patios. One of the most beautiful ways to use them is to create an outdoor fireplace or barbecue pit. Stone is also a useful material for ground cover and borders. These are just a few of the many ways you can use stone in your hardscaping.
3. Easy to Maintain
Another reason so many people choose to use stone is that it is so easy to maintain. There is almost nothing that you have to do to take care of stone. That makes it far superior to other hardscaping materials that force you to spend time, money and effort to maintain them. Once you have made the choice to use stone, you will have avoided countless hours of maintenance that you can spend doing something else.
4. Durability
Of course, its durability is one of the most popular reasons that Ann Arbor MI hardscaping professionals choose to use ston
e. With the brutal winters that we experience in this part of the world, you want to use the most durable material possible when you are working on an exterior project. Stone will hold up much better to the elements than other materials like wood and cement.
5. Value
When you look at the price tags for the common hardscaping materials, you may not at first glance think that natural stone offers the best value. However, when you look deeper, you will see that there is no material that offer a better value than stone. You have to factor in its durability and lack of maintenance into the equation. When you consider these factors, stone comes out on top for value in hardscaping materials.
Get your yard looking its absolute best with custom landscaping solutions from Twin Oaks. Find us online at https://www.twinoakslandscape.biz/, visit us in Ann Arbor, MI at 4100 South Maple Road, or call us at (734) 213-6911.
"We recommend Twin Oaks to any entity looking for a full-service, talented, and responsive provider."
Therese Mahoney
Secretary/Treasurer of Doral Creek Condominium Association, Ann Arbor, Michigan