October 16, 2014
Choosing a snow removal service is much like hiring any other contractor to do work on your home. There are steps you should take to be sure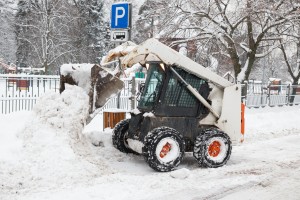 you're protected and that you're receiving the best service for your money. It helps to research companies long before you'll need the snow removed from your driveway.
Recommendations
Find out who your neighbors use. It's a bonus if they are extremely happy with their removal service. Ask more than one person who they use each winter to remove the snow from their driveways, or you could end up with a neighbor's cousin who does snow removal on a part-time basis.
Research and Ask Questions
Legal Business or Part-Time
If you want a part-time person who occasionally winches a plow onto their truck for extra cash, you are going to pay less, but they won't have the required insurance that a legal business would. Make sure you ask if the business is a legal entity or not. You'll be able to make informed decisions when you know the facts.
Insurance and Liability
You should ask every company you contact whether they have liability insurance. Accidents happen, and you don't want to be the one who is held liable if an accident occurs on your property. Find out how long they've been in business too.
Staff and Equipment Requirements
If it's a one person operation, you'll want to know before you part with your money. The amount of staff and the type of equipment will impact how quickly the company will get to your snow removal needs. Ask how many employees they have and the type of equipment used. Is there one person with a snowplow, or a dozen people with snowblowers?
Services Provided
Before calling the companies on your list, think about what areas you need cleared. Do you want them to do the driveway alone, or the driveway along with stairs and walkways. Find out whether the price includes all areas or not. Don't assume they'll clear your walkways if you haven't asked.
Priority
A very important question to ask when you are researching companies is how they assign priority to their jobs. Are you supposed to call, or will the company show up after a storm on its own? Do they cover certain areas of town first? If you have a disability or a circumstance that you feel needs priority, talk to them about how they will address your special needs.
Cost
Lastly, you'll want to know about the cost of each service, and how they calculate it. If there's a contract, are you paying monthly, yearly or after each storm? If you have a certain amount of visits per your contract each year, find out how much extra visits will cost. It's a smart idea to ask about frequent visits during nasty storms too. Will they plow all at once at the end of the storm, or frequently during the storm? Are there extras you'll have to pay?
It's important to take these steps to research various companies before choosing the one to service your home.
"We recommend Twin Oaks to any entity looking for a full-service, talented, and responsive provider."
Therese Mahoney
Secretary/Treasurer of Doral Creek Condominium Association, Ann Arbor, Michigan