A Lawn Fertilizing Service to Improve the Health of Your Yard
A lawn fertilizing service is the perfect way to improve the health of your lawn in Ann Arbor MI without having to take time out of your busy schedule to do the work yourself. The professionals have the experience and knowledge to handle the maintenance, both preventive and otherwise, so that your landscape can be the envy of your street without being a nuisance to your routine.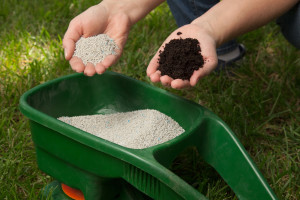 How Much Fertilizer Do You Need?
One of the most critical areas which usually is best handled by experts in the field is the determination as to the amount of fertilizer necessary. Their extensive knowledge with other customers and similar landscapes gives them a nice baseline with which to make the proper assessment. This can include local conditions such as weather patterns and other sometimes overlooked details as well. There is danger both in providing too much fertilizer to an area and also in not providing enough of the nutrients for proper growth. For example, too much nitrogen (an essential ingredient to healthy green grass) can actually cause the grass and plants to yellow in disarray. Similarly, not enough can stunt the growth at times when coverage is needed and this can lead to erosion or other more costly problems.
What Type of Fertilizer is Right for You?
Along the same lines, the proper product must be chosen or it will not make much of a difference how much is applied or not applied. The type of fertilizer can often be expensive and one can leverage the bulk discount that a lawn fertilizing service will be able to obtain in order to get the perfect product for the particular type of landscape being maintained. The same thing goes for coverage and the machinery to do the job properly can become expensive to purchase and maintain for an individual alone. That is where the experts are able to save time and money due to their available tools.
Do You Need a Soil Test?
A soil test is one of the key components that can separate the true professionals from the wannabes. A company that tests the soil well will be able to differential acidic or alkaline land and make adjustments to the service as required. One definitely would rather be upfront about this rather than waiting for problems to appear before realizing the value in these specific soil tests. It is definitely something to ask about when first checking with the service you are interested in.
There are some tips that a savvy homeowner can use to insure that the best service is sought after and obtained. One simple method of assessment is to ask neighbors with nice lawns how much they are paying for a service and that will provide a ballpark figure that can be used when discussing price. One should check online reviews and even with the BBB to insure that the company is not some fly-by-night scam of which there seem to be many in the lawn service field. Any reputable company will be able to provide recommendations and even examples of their work to verify that they have a solid history of providing quality service in Ann Arbor MI.
Get your yard looking its absolute best with custom landscaping solutions from Twin Oaks. Find us online at https://www.twinoakslandscape.biz/, visit us in Ann Arbor, MI at 4100 South Maple Road, or call us at (734) 213-6911.