May 4, 2014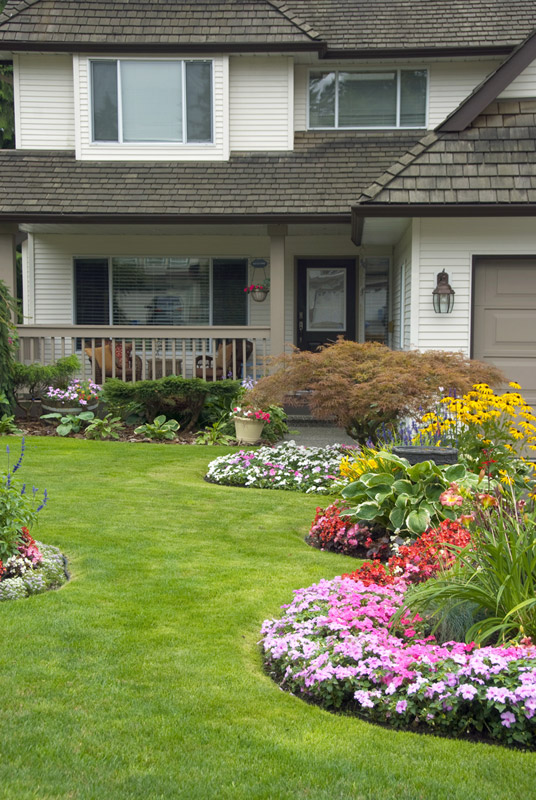 What is a backyard without flowers, trees and shrubs? Known as softscaping, these living entities add excitement and visual interest to your outdoor living space as well as provide practical benefits like shade in the summer, protecting vital topsoil in the winter and muffling traffic noise. That is why softscape landscaping is so popular among homeowners the world over.
Softscapes consists of any living element that is part of your outdoor design scheme, including trees, shrubs, annuals and perennials, bulbs, grasses and ground covers. Softscapes make your outdoor living space a panorama of color and texture and at the same time soften any hardscape elements like walks, walls, patios, decks and driveways. For example, shrubs planted along the foundation of a house will partially shield it, creating a wall of green that provides coverage year-round and simultaneously hiding electrical and gas meters and pool equipment and machinery, which are not attractive to look at.  Very tall shrubs or trees can also provide privacy from prying eyes when they are placed strategically, like on property lines and around pools and patios.
Softscaping can also define boundaries within your landscape. The edge of a patio or pond when enhanced with flowering plants reinforces its appealing curve; a walkway edged with ground cover gives its borders definition, much like a bold outline of a pencil drawing.  Plantings are an excellent way to create depth and dimension in your backyard. This is achieved when, for instance, tall shrubs are placed towards the rear of flowerbeds and shorter plants are placed up front.
Softscaping, especially grass, is invaluable when it comes to making a newly built house look "lived in" and to provide welcome visual relief from large expanses of vinyl siding. If you live in a cold climate, a softscape using grasses and ground covers, can protect precious topsoil from eroding and keep bulbs cozy until springtime.
Perennials are another important part of this type of landscaping. They not only provide fragrance and color which is not limited to the changing seasons, but may also offer a food source that attracts butterflies, hummingbirds and other wildlife.
Mulches are also a key part of the landscape in that they can add color and texture to your outdoor living space. Most mulch comes from the shredded bark of trees. Mulches are also functional, providing coverage for the soil around plants to fend off heat, keep water from evaporating too quickly, and killing encroaching weeds.
The important things to remember when considering a custom softscape is to choose plants that will grow to their full potential and give you four seasons of beauty and enhanced visual interest and that will suit your lifestyle. A low-maintenance softscape comprised of perennials, shrubs and ground cover is best for those who prefer to enjoy their backyard without doing a lot of upkeep. For someone who enjoys puttering in the garden, a softscape consisting of annuals, perennials and large expanses of grassy lawn will provide hours of enjoyment.
"We recommend Twin Oaks to any entity looking for a full-service, talented, and responsive provider."
Therese Mahoney
Secretary/Treasurer of Doral Creek Condominium Association, Ann Arbor, Michigan