March 23, 2015
O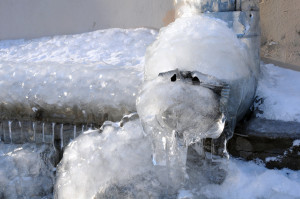 ngoing maintenance of gutters and associated drainage is critical to the longevity of your home or business. Over time, gutters will collect debris from overhead trees, falling branches and a collection of leaves, as well as what birds and small animals may bring.  If you have leaves on your grass, you can bet that leaves and other debris, has collected in you gutters.  This material will collect, and over a period of time, create some serious drainage issues.
Properly cleaning your gutters and drainage systems on an annual basis can minimize a number of problems which can include:
Ice dams that may cause water to leak in to the house;
Wood and structure damage from leaking gutter & continued water saturation;
Habitation of rodents within the drainage piping;
Prevent excessive frost heave from saturated sub-grade soils;
Prevent flooding in areas surrounding clogged drainage structures; and
Infestation of grubs, earwigs and other creatures in wet, organic-rich soils.
The low cost of maintaining your structure's drainage system can prevent expensive and unplanned repairs that may costs thousands of dollars and unfortunately, may not be covered by insurance.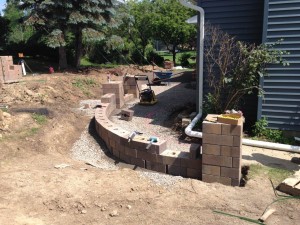 Another key element in successful utilization of your downspouts is to have them tied in to a drainage system that carries water away from the foundation of your home or business, or desired areas such as walkways and patios where consistent water flow may cause underlying damage to such areas.  See photo to the right of a patio installation whereas we tied the downspouts in to a drainage pipe to lead water away from the new patio.
"We recommend Twin Oaks to any entity looking for a full-service, talented, and responsive provider."
Therese Mahoney
Secretary/Treasurer of Doral Creek Condominium Association, Ann Arbor, Michigan