Do You Need a New Sprinkler System?
If you have recently noticed that when you turn on your front yard sprinklers you water the street, sidewalks and your neighbors yard more than your own now you know why his yard is greener than yours. Yes, my friend, Murphy's Law (whatever can go wrong will go wrong) has tapped you on the shoulder with a reminder that you need a new sprinkler system. And while you're at it, you might as well include the back yard as well since that system has been watering the fence more than the lawn for the past year.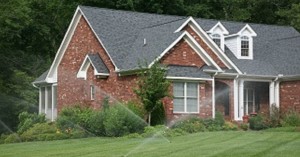 So here's the question before the house of common sense for those in Ann Arbor MI. If you could have perfect weather, most folks would opt for white puffy clouds, plenty of sunshine, 65 to 75 degree temperatures; maybe even toss in a slight warm breeze every now and then. Oh, one more thing to add would be a nice, green front and back yard where the kids could play and families could entertain. Perhaps a final touch would be a new water sprinkler system to keep the yards green.
Some of the recent statistics are interesting, too. On average in the Ann Arbor MI area homeowners spent nearly $3,000 bucks for remodeling projects. In fact, this year may very well be a record-breaking year to consider upgrading your bathrooms, kitchens, bathrooms and basements along with installing a new sprinkler system. That said, in case you missed the memo, spring and early summer is the best time to get your yard ready for the upcoming summer heat. And that includes consulting with your local landscaping contractor about new sprinklers front yard and back yard. You can't have those family BBQs, water slides, and friendly neighborhood gatherings with your sprinklers pointing east instead of west or north instead of south every time you turn them on.
To alleviate summer conundrums in Ann Arbor MI, here are four things you'll need to do to get your front and back yards ready.
* New Sprinklers: This is a "must do" item if you haven't changed sprinklers since George W was president. If you took a few minutes and added up how much water your existing sprinklers have cost you while spraying water into the street and not your yard, a new set is the answer. Besides, your lawn will finally thank you for allowing them to grow green, healthy and prosper.
* Aeration: When a lawn has been aerated with those little 'dirt plugs" you'll get better water and nutrient absorption. And you should care less if your neighbor thinks a pack of moles have made a new home.
* Fertilization: Your local landscaper will recommend at least four applications of fertilizer in your yards, spring, early summer, summer and fall.
* Irrigation: Other than your sprinklers, one of the most important things you can do to initiate a healthy lawn is irrigation. This is one of those two little or too much situations which is why you need new sprinklers.
Get your yard looking its absolute best with custom landscaping solutions from Twin Oaks. Find us online at https://www.twinoakslandscape.biz/, visit us in Ann Arbor, MI at 4100 South Maple Road, or call us at (734) 213-6911.